BMW E92 Bentley Repair / Service Manuals
Are you a Do-It-Yourselfer? Backyard mechanic? Tinkerer? Or a novice just starting out? Let the manual be your guide! We sell Bentley Service Manuals for most BMW models. They are widely regarded as the best source of how-tos, instructions, guidelines, and information on BMW repair procedures. You will find a wealth of useful information in these repair manuals that even an experienced home mechanic can use. A Bentley Repair Manual not only includes step-by-step guides but also data tables for filling quantities, tightening torques, Inspection I/II maintenance tables, wiring diagrams, and, of course, more. Bentley manuals cover all aspects of the car - General Data and Maintenance, Engine, Transmission, Suspension, Steering, Brakes, Body, Body Equipment, and the Electrical System. Having one of these manuals on hand can literally save you time and money.
For the E30 M3 we also sell the excellent Koala Motorsport CD-ROM Repair Manual. It's filled with information and tech procedures specific to the S14 engine and the E30 M3. The E30 Bentley Manual and the E30 M3 CD-ROM make an unbeatable service manual for the M3.
You're currently viewing parts for your
(E92) 3-Series Coupe 2007-2013
.
Reset your chassis

For accurate results, specify your model below.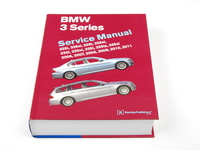 This giant hardcover manual (8 3/8 in. x 11 in.) has 1424 pages and 2412 technical photos and illustrations, all pertaining to the 2006-2011 BMW 3 series. Bentley's acclaimed service manuals contain in-depth maintenance, service and repair information for the E9X chassis 3 series, including the E90 sedan, E91 wagon, E92 coupe and E93 convertible.
The aim throughout has been simplicity and clarity, with practical explanations, step-by-step procedures and accurate specifications. Whether you're a professional or a do-it-yourself BMW owner, this manual helps you understand, care for and repair your BMW 3 series. The do-it-yourself BMW owner will find this manual indispensable as a source of detailed maintenance and repair information. Even if you have no intention of working on your vehicle, you will find that reading and owning this manual makes it possible to discuss repairs more intelligently with a professional technician.
This manual specifically covers the following BMW models & engines:
-
Normally aspirated models (3.0 liter 6 cylinder)
• 325i, 330i - N52 engine (rear-wheel drive)
• 325xi, 330xi - N52 engine (all-wheel drive)
• 328i - N52KP / N51 engine (rear-wheel drive)
• 328xi N52KP / N51 engine (all-wheel drive)
-
Twin turbo-charged models (3.0 liter 6 cylinder)
• 335i - N54 engine (rear-wheel drive)
• 335xi - N54 engine (all-wheel drive)
• 335i - N55 engine (rear-wheel drive)
• 335xi - N55 engine (all-wheel drive)
Covers removal / install / external service of the following transmissions:
• Getrag GS6-17BG manual
• ZF GS6-37BZ(X) manual
• ZF GS6-53DZ(X) manual
• GM GA6L45R automatic
• ZF GA6HP19Z automatic
• Getrag GS7D36SG double-clutch
This manual does not cover the S65 V8 engine in the M3 or the N57 turbo diesel engine in the 335d. But many of the suspsension, brakes and other systems of the cars are very similar so this manual might also be helpful for these cars.
*This manual covers the 2012-2013 BMW 3 Series Coupe (E92) and the 2012 BMW 3 Series Convertible (E93). The E92 and E93 models were extended through the 2012-2013 model year.

Part #: B311
In Stock

Free Shipping
on orders $199 and up