BMW E92 Aero & Body Kits

Body kits include front, side, rear, and other components to completely alter or update the appearance of your BMW. These may not be wild and attention-getting add-ons. We offer many pieces that replicate factory bodywork from M3, M5, M Sport and other BMW factory aero kits. Updating the trim and appearance is a great way to add value and refresh your car's ordinary looks.
You're currently viewing parts for your
(E92) 3-Series Coupe 2007-2013
.
Reset your chassis

For accurate results, specify your model below.
Vorsteiner is a company that was conceived through the imagination of creating the highest quality parts for the most discerning vehicles and clientele. The relentless pursuit of advancement and perfection is seen not only in the unmatched automotive parts, but also in the hands of carbon fiber craftsmen to create purely sensational parts for the most deserving and elite vehicles.
This LIMITED PRODUCTION Kit includes:
GTRS3 Aero Front Bumper with front spoiler
GTRS3 Aero Front Fenders - Driver and Passenger Side
GTRS3 Aero Side Skirts - Driver and Passenger Side
GTRS3 Aero Rear Bumper with diffuser
GTRS3 Aero Rear Fenders - Driver and Passenger Side

Our dry carbon wheel well splitters are made with high performance vehicles in mind. These dry carbon wheel well splitters are used to fine tune the front aerodynamics of a race car or street car to compliment existing aero modifications.
These wheel-well splitter provide two benefits to high performance vehicles - the first is redirecting the airflow past the front of the wheel well right to the wheels, eliminating turbulence. Secondly, they adds more frontal surface area for airflow to effectively apply more downforce. The splitters feature a tapered surface area with slots, enabling fine tuning of frontal downforce.
Each dry carbon downforce wheel-well splitter requires 4 Phillips 3/4" self tapping #2 screws. These are flat tapered strips that will flex to fit your vehicle's wheel wells.
Length: 61.7CM
Width: 5.2CM-7CM
Thickness: 1.5MM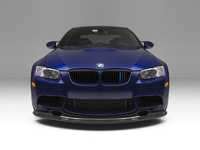 M3's come from the factory with beautiful aerodynamics and style. But just like anything, there is always room for improvement. Add to the aggressive look of your M3 with these high quality carbon fiber part, front lips to spoilers we have every thing you need to make your M3 stand out.
Fits These BMWs:
2008+ E92 M3 coupe