BMW E92 Performance Intake Kits

The BMW Performance line of intake kits deliver power gains with exceptional engineering and good looks. BMW Performance Intakes are designed to take advantage of a larger air filter to gain more cool air for the engine. The cooler and denser air will develop more power and torque. BMW engineers this kit for a perfect fit with materials and design consistent with the rest of the engine bay. With a factory-designed performance intake you get the power gains of an aftermarket kit blended with style and engineering direct from BMW.
You're currently viewing parts for your
(E92) 3-Series Coupe 2007-2013
.
Reset your chassis

For accurate results, specify your model below.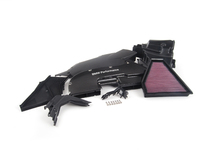 Upgrading to a BMW Performance air intake system for your E90, E92, E93 will unleash gains of up to 3 horsepower and 3 ft-lbs. of torque for your 3 Series, while also helping the engine to operate more efficiently with a 30% reduction in back pressure and increased overall performance. Kit includes new air box, covers and filter.
This item fits the following BMWs:
2006+
E90 BMW
325i 325xi 328i 328xi 328i xDrive 330i 330xi- Sedan
2006+
E91 BMW
325xi 328i 328xi 328i xDrive - Wagon
2007+
E92 BMW
328i 328xi 328i xDrive - Coupe
2007+
E93 BMW
328i - Convertible
Part #: 13720444751
Free Shipping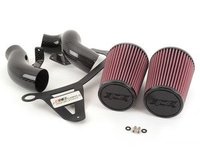 This dual-cone intake for the 135/335/535 is similar to the enclosed carbon fiber intake but without the surrounding air box. If you love the look of the open filters and high-tech carbon fiber, this is the kit for you. High-flow cotton air filters connect to CAD engineered carbon fiber intake tubes for an improvement in air flow. The open filter layout releases more intake roar than the stock muffled intake.
135/335/535 ECS open DCI intake features -
Designed and engineered using CAD technology for optimal flow and fitment
Washable/reusable high flow cotton filters (pre-oiled)
Stainless steel hardware
Direct replacement for stock air box; integrates seamlessly with stock intake piping
Beautiful and functional carbon fiber/e-fiberglass construction
Part #: 004531ECS02A
Free Shipping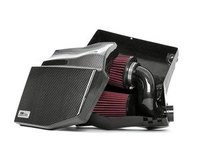 The ECS Kohlefaser Luft-Technik (Carbon Fiber Air Technology) intake for the 135/335/535 is a beautifully crafted dual-cone intake with a glossy carbon fiber enclosure. Developed in-house using ECS's chassis dyno and state of the art laser scanning and 3D CAD technology, the N54 carbon airbox is a direct replacement for the stock system. Laser scanning allows ECS to produce a finished product that is a perfect fit to the engine bay. All tubing is also made from carbon fiber with each piece designed for optimal flow. The carbon fiber sandwiches a special heat-blocking fiberglass core, insulating the air box from engine bay heat. All of this combines to produce more power and torque over a wider RPM range - up to 13ft-lbs and 18hp when combined with a Cobb software tune, FMIC, and exhaust. And it looks amazing every time you open the hood.
135/335/535 ECS Carbon intake features -
Designed and engineered using CAD technology for optimal flow and fitment
Dyno proven power and torque gains backed with real-world testing
Washable/reusable high flow cotton filters (pre-oiled)
Stainless steel hardware
Direct replacement for stock air box; integrates seamlessly with stock intake piping
Beautiful and functional carbon fiber/e-fiberglass construction
Part #: 000951ECS
Free Shipping