E92 Apex EC-7 Wheels
The EC-7 was designed for long-term durability without sacrificing performance and fit. More and more, faster and heavier cars are being used for racing, track days, and daily driving. Because of this, engineering the EC-7 to handle extreme abuse on the track and street, while keeping the wheel lightweight, was vital. Along with a wide range of model-specific fitments and increased brake clearance, the EC-7 is a perfect compliment to the APEX ARC-8.
You're currently viewing parts for your
(E92) 3-Series Coupe 2007-2013
.
Reset your chassis

For accurate results, specify your model below.
This category contains 3 parts that may fit your (E92) 3-Series Coupe 2007-2013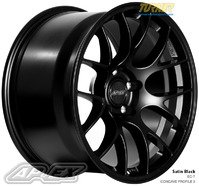 This category contains 7 parts that may fit your (E92) 3-Series Coupe 2007-2013
This category contains 7 parts that may fit your (E92) 3-Series Coupe 2007-2013