BMWs did not feature wheel studs from the factory. Instead, their lug design makes changing wheels a pain. For easy wheel installation or for testing spacer fitment, our wheel hangars bolt up to the hub and allow quick installation of the wheel without any hassle. Anyone who changes wheels frequently can benefit from these wheel hangars and wheel storage racks to save space and time.
As any mechanic either at home or in a shop knows, there is rarely enough usable floor space. At least with a wall mounted tire rack you can count on the spare tires to be out of your way. Space is not the only factor for choosing a wheel storage product like this, most people don't realize that a concrete floor actually draws moisture leaving your tires to dryout even faster.

Features:
Adjustable links allow you to store any size from 12" wheels to 19" wheels with tires
Folds flat against the wall when not in use to maximize your usable space
Supports up to 250 lbs and weighing in at only 20 lbs itself

46" wide storage area (holds up to four 11A1/2" wide tires)
Sturdy steel construction
Mounting holes spaced 48" apart for mounting to standard center studs

This old-fashioned tool serves a number of purposes - A) It's a must-have for changing wheels. B) It's also useful for mocking a wheel on the hub to measure for spacer thickness. It's inserted into one of the bolt holes by hand and easily slides out when done.

A) This wheel pin (wheel stud) makes changing wheels a snap. When it's pressed into the wheel hub, the new wheel slides right over it and each bolt hole lines up perfectly. No more wrangling with a wheel/tire to get the bolts to line up! After installing your other wheel bolts, slide this out of the wheel and replace it with the last wheel bolt. We love this tool over all others because it's so easy to use. This tool slides into the bolt hole - it's not threaded so there's no danger of cross-threading or damaging the threads inside. And it's not affected by rust or other contaminants. Most BMW tool kits come with this tool already so it's easy to store and every BMW mechanic will be familiar with it.

B) If you're trying to figure out what size spacer to use this tool can make things easier. With the pin pressed in to the hub you can then slide M12 washers over it to mimic the thickness of a spacer. The extra length of this pin allows you to slide the wheel back/forth to set the positon of the wheel. Measure the thickness of your washers and that's your spacer size! For this procedure, it's recommended that you have 2 of these pins so the wheel does not rotate out of position.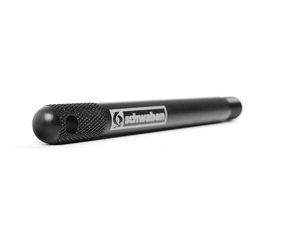 Our aluminum wheel hanger makes it easy to remove and install wheels. Just thread the hanger stud into a wheel bolt hole and hang the wheel safely while you rotate tires or remove them for service or vehicle repair. (It's also great for keeping wheel bolt holes aligned on cars with spacers.)
Features:
Longer & Lighter
Made of 6061-T6 aluminum
Anodized for hardness and good looks
Knurled, non-slip handle has a drilled hole so you can hang it on a pegboard hook in your garage
Better still, order two: one for your garage and another for the emergency tool kit in you trunk.
---