BMW E92 Exhaust System Upgrades

A performance exhaust is a modification that you get constant benefit from - at every change of the throttle you are rewarded with that tuned sound. It's not like other modifications where you may not realize all of its benefits all the time. It's an upgrade that you enjoy at all times when you're behind the wheel. We offer exhaust upgrades from multiple performance manufacturers like Borla, Corsa, Supersprint, and Akrapovic but we have also developed or sourced other exhaust systems to meet specific needs.
You're currently viewing parts for your
(E92) 3-Series Coupe 2007-2013
.
Reset your chassis

For accurate results, specify your model below.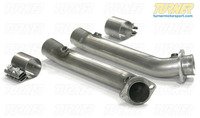 One of the first things we noticed when we got our E90 M3 back in 2008 was the exhaust restriction caused by the placement of the front cats. For space considerations, the factory exhaust setup is crimped in an odd way and the cats are a high cell count. Both combine to rob horsepower. It seemed logical to us that replacing the first set of cats with a set of straight pipes would really open up the breathing and make serious horsepower. Our M3 Test Pipes were designed specifically for race/track use and offer a cost-effective means of removing the very restrictive primary cats. On our Turner M3 and BMW Motorsport M3 GT4 racecars the primary cats and restrictive piping is eliminated. Our M3 cat delete pipes were the first on the market and have proven again and again to make big power on their own or especially when paired with our Stage 2 performance software. (click here)

Our Test Pipes are Made in the USA with strict production tolerances and quality control. We manufacture our pipes with high quality, mandrel-bent stainless steel pipes and laser-cut flanges for an optimum fitment. New gaskets are included. For installation, simply measure and cut the stock front pipes and the Turner Test Pipes slide on. The factory secondary cats remain in place. Your original O2 sensors plug into the Turner Test Pipes. There isn't a better 'bang-for-your-buck' upgrade on your M3 than a set of our Test Pipes.
This part alters or deletes the emissions equipment on your car, and may not meet emissions standards in all states. Because of this, we require a waiver of emissions compliance to be signed and sent in to TMS. You can download the waiver here.

Click here for E9X M3 Test Pipe installation instructions.

This item fits the following BMWs:
2008-2011 E90 BMW M3 - Sedan
2008-2013 E92 BMW M3 - Coupe
2008-2013 E93 BMW M3 - Convertible

Part #: TEN9046MTP
In Stock
Free Shipping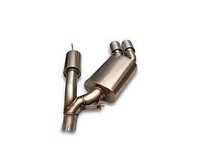 Optimal power, performance and sound are the core values of our Active Autowerke BMW 328i exhaust system, designed to fit BMW 325i, 328i, and 330i E9X N52 models. A free-flow design and beefy 80mm dual exhaust tips allow 35% to 40% more exhaust flow than the stock BMW 328i exhaust system.
The increased flow minimizes back pressure, resulting in substantial HP and torque gains. The system's Brushed stainless steel construction also makes a bold visual statement, while also increasing durability.

Factory-fit specifications are followed closely, yet AA's system allows 14lbs in weight savings as opposed to the factory BMW exhaust.

This exhaust features the Active Autowerke Muffler and Noise Cancellation Chamber to assist in reducing/eliminating drone. Manufactured from 100% brushed 304 stainless steel, this clamp-on system is suited for the N52 owner looking to bring their BMW's performance to new heights.
NOTE: This exhaust will only fit the XI (4WD) and Station Wagon Models if purchased with our Mid-Pipe, or welding may be required to join exhaust to stock pipe. Exhaust system requires cutting of the factory pipe for installation. Dimensions and cutting points are highlighted in the instructions.
KEY FEATURES:
Fits BMW 325i, 328i, 330i
Full 304 stainless steel construction with brushed finish
3" Mandrel-bent piping for optimum exhaust flow
Straight through muffler design
NCC (Drone Reduction)
Dual 80mm Active Autowerke Signature tips, staggered
Weight Savings *14lbs lighter than stock BMW exhaust*
Designed to use existing factory mounts and hardware
Fully adjustable mounting positions
Fully adjustable tips
Illustrated instruction manual
Two year warranty
Fits all E9X vehicles with the N52 engine. Requires cutting and welding of the stock system for fitment. Includes instructions for installation process.

Part #: 11-021
In Stock
The aFe Race Center Pipe eliminates the factory primary and secondary catalytic converters in favor of 2.5" mandrel-bent stainless exhaust with 200-cell race cats. This aFe exhaust section fills the need for a E9X M3 center section with better flow than stock but that still incorporates catalytic converters. aFe recorded gains of 21whp and 35ft-lbs of torque on their dyno (when also combined with the aFe intake and mufflers).

aFe spent considerable time developing a system to eliminate both sets of stock cats and the center resonator for maximum flow but also doesn't lose torque or power at any RPM point, while also bolting to the factory headers and rear mufflers. It's a direct replacement for the stock section 1 and section 2 mid-pipes and includes a tuned center x-pipe to evenly balance exhaust pulses and maintain backpressure through the system. It uses all of the factory mounting locations, gaskets, and hangers and is made from the best 304 stainless steel.

By tuning the exhaust with different pipe diameters and the location of the x-pipe crossover, the aFe Race Pipe produces a very aggressive, raucous, and powerful exhaust note even when used with the stock muffler system. By opening up the exhaust and deleting the two restrictive cat sections and resonators, you will be able to hear a lot more of the exhaust as well as a deeper tone with more rumble - and with a big bump in power to go along with the sound! Don't be misled by other "race" pipes with minor sound changes - the aFe exhaust sounds a lot like our own E92 M3 racecars.

section:section 1 cats + section 2 x-pipe
connects to:stock headers; any rear mufflers
material:T304 stainless steel
This product modifies (but does not remove or defeat) emissions equipment. For this reason this product may not be CARB compliant, and therefore not emissions legal in some states. Consult local laws and regulations in your area. For more information on this product, feel free to contact our sales department.


This item fits the following BMWs:
2008-2011 E90 BMW M3 - Sedan
2008-2013 E92 BMW M3 - Coupe
2008-2013 E93 BMW M3 - Convertible

Part #: 49-36316
Direct Ship