BMW E93 M3 Internal Engine Parts

Rebuilding your engine or giving your cylinder head an overhaul? Internal engine components covers parts that are located within the engine block and cylinder head. Examples include: timing chains and tensioners, rocker arms, rod bolts and studs, head bolts, valve springs, connecting rods, and more. These are Genuine BMW engine parts, performance upgrades, or approved aftermarket brands that have a long track record of reliability and quality.
You're currently viewing parts for your
(E93) M3 Convertible 2008-2013
.
Reset your chassis

For accurate results, specify your model below.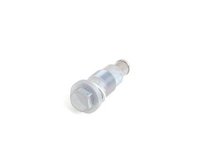 The timing chains on the S65 engine are under pressure from two spring-loaded tensioners (one for each bank). The tensioners put pressure up against the guide rails for each chain. With reduced pressure the chains will not slide along the rails smoothly. They can rattle and make a loud light metallic noise (especially when cold). This can also damage and wear the rails. Or worse, if the chain was loose enough and stretched it could jump off the teeth of the chain sprockets. Periodic replacement of the tensioners will keep your engine smooth and quiet and prolong the life of the timing chain and guide rails. This is an Original BMW part.
Sold per tensioner with the seal ring. The S65 engine has two tensioners but they do not have to be replaced in pairs.
This item fits the following BMWs:
2008-2011
E90 BMW
M3 - Sedan
2008-2013
E92 BMW
M3 - Coupe
2008-2013
E93 BMW
M3 - Convertible
If you are using a premium fastener, such as the ARP brand rod bolts, head bolts, or main bolts, then you will want this assembly lube. Made to be used to precisely duplicate all ARP fastener preload specifications. Available in 3 sizes -- single use 0.5oz packet, 1.69 fl oz tube, or 10oz bottle (select your size below)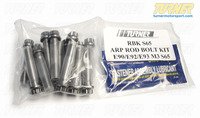 NEW & REVISED!!!
ARP has released a new version of their race-grade M3 connecting rod bolts and its better than ever before. ARP connecting rod bolts use a new super-alloy material called "Custom Age 625 Plus" that is over 30% stronger than the previous chrome moly. ARP S65 connecting rod bolts are precision CNC-machined to exacting specifications and designed for optimum reliability and designed for the endurance racing environment. These rod bolts are heat-treated with threads which are rolled to provide up to ten times more fatigue strength. If you're replacing your rod bearings these rod bolts are far superior to standard the OE BMW fasteners in terms of durability and ability to withstand stresses. This set of rod bolts is made specifically for the S65 4.0 liter V8, as found in the 2008-2013 M3 and replaces the previous ARP kit part number RBK_S65.
This newly formulated super-alloy demonstrates superior fatigue cycle life, tensile strength and toughness – with complete resistance to atmospheric corrosion and oxidation. ARP is the first to develop manufacturing and testing processes for fasteners with Custom Age 625+. Best of all it is less expensive and expected to soon replace MP-35 as the material of choice in the high strength, super-alloy field. Typical tensile strength is 260,000-280,000 psi. Custom Age 625 Plus exceeds the strength of 8740 Chrome Moly or ARP2000 spec, with a yield strength of 235-255,000 psi and tensile strength of 260-280,000 psi. ARP fasteners are used widely in motorsport and drag racing with naturally aspirated and forced induction setups. These are simply the best connecting rod bolts available.
These ARP connecting rod bolts fit the following BMWs:
2008-2013
E90 M3
sedan
2008-2013
E92 M3
coupe
2008-2013
E93 M3
convertible
Part #: 201-6001
Free Shipping