BMW E93 M3 Aero & Body Kits

Body kits include front, side, rear, and other components to completely alter or update the appearance of your BMW. These may not be wild and attention-getting add-ons. We offer many pieces that replicate factory bodywork from M3, M5, M Sport and other BMW factory aero kits. Updating the trim and appearance is a great way to add value and refresh your car's ordinary looks.
You're currently viewing parts for your
(E93) M3 Convertible 2008-2013
.
Reset your chassis

For accurate results, specify your model below.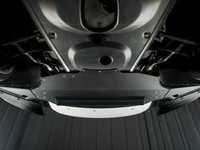 Damaged belly pan? We've been there. Every "thunk" or "scrape" against the factory underbody is cringeworthy. Fear not, M3 owners. At long last, our engineers have boldly addressed an Achilles' heel of this performance beast: the belly pan. The lowest point of the car, the OE belly pan ends up being an easy target for curb stops, inclines, and road (or track) debris. The fiber material used in construction of the factory piece make it lightweight, but at the cost of very limited durability. With delicate engine components being mere inches away (including the oil cooler), our heavy duty skid plate should be on every M3 owner's install list.
After much evaluation and testing, our engineers have designed an especially strong, attractive skid plate while retaining the complex aero features found on the OE belly pan. The center pan is manufactured from 3/16" 5052 aluminum and is connected directly to the frame rails via 1018 steel brackets and a fully-reversible, proprietary fastener system for maximum rigidity. Our design features beefy 1/8" thick aluminum side plates that are perfectly integrated with all factory fender liner mounting locations for a factory fit. With ducting mimicking that of the factory pan, you'll experience factory cooling and aerodynamics, and are even able to re-use your OE rubber ducting trim.
They say the best offense is a good defense - with that in mind, our skid plate offers improved ground clearance to avoid costly, cringe-worthy, and dangerous impacts in the first place. Despite this, you still make contact? Rest assured, this skid plate is designed for severe duty usage.
All components are protected using wrinkle black powder coat finish to maintain a sleek appearance and protect against corrosion. Includes new stainless steel hardware.
Features:
3/16" thick aluminum main plate and 1/8" thick aluminum side plates
1018 powder coated steel tube support braces for maximum skid plate strength
Retains factory air duct for oil cooler
Maintains wheel liner mounting positions
Contains all necessary stainless mounting hardware and components
No modification necessary; easy to convert back to stock
Made in America!
This performance upgrade is for the following BMWs:
2008-2011 E90 BMW M3 - Sedan
2008-2013 E92 BMW M3 - Coupe
2008-2013 E93 BMW M3 - Convertible

Part #: 021807TMS03
Ships on Feb 27, 2018
Free Shipping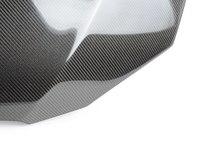 Founded in 2003 Seibon Carbon excels in delivering premium quality carbon fiber products to those with discerning tastes. The process begins with the best carbon raw material manufactured in either USA or France; in fact it is the same stock that can be found on high performance racecars, battleships and satellites. Supporting race teams is one of Seibons' specialties and you will see their work in many different platforms and racing types. Drivers such as Michele Abbate in her Scion FRS racecar, Fredric Aasbo in his Formula D Scion tC and even team RS-R in Asian Formula D all rely solely on Seibon to get them to the podium.
Using single piece construction, the carbon is laid inside of a mold instead of being wrapped around it. This allows for a much stronger piece in the end and allows much greater control when the resin is applied. Areas such as door hinges, hood latches and window regulator mounting points are reinforced so as to add strength and longevity through repeated use. Application of the resin is then accomplished using proprietary techniques that allow for a much more uniform coating than most competitors and yields a product that is lighter, since there is no excess.
Finally the product is finished with a glossy clear coat this resists chipping and cracking and gives a glossy wet look. Inspection of the finished product is then performed to ensure there is no weave distortion in tight corners or complex bends.
Features:
Proprietary methods to lay wet carbon for a stronger and lighter product
UV resistant resins, even a weathered part can be wet sanded and brought back to original finish
Panels are 70% lighter than stock as opposed to competitors which come in around 50% lighter than stock.
No black paint is used to hide imperfections along detail edges and creases.
Partnered with SCCA and Formula Drift bringing their top quality fit and finish to the competition environment.
This item fits the following BMWs:
2008-2013 E92 BMW M3
Part #: HD0708BMWE92M3OE
Direct Ship