Stainless brake lines are a must for any track driven BMW and make a great upgrade on street cars as well. Brake lines should be replaced every few years anyway and braided stainless lines offer an additional layer of protection. Rubber brake lines deteriorate from the outside and inside. The external rubber can become stiff, crack, or get damaged by debris. The stainless braiding and Teflon inner coating help protect the outside of the line from debris. And with a stronger material the line will not expand or swell under extreme braking conditions. Stainless brake lines provide a firmer positive pedal feel under hard braking by greatly reducing the expansion that can be found in stock rubber lines. The internal of old stock rubber lines can become constricted over time even if the exterior looks normal. With a blockage or restriction you can have serious braking issues that often go mis-diagnosed as warped rotors, stuck calipers, or bad ball joints. Make sure you don't overlook your brake lines! All brake lines, rubber or stainless, should be replaced every few years and any time you replace a brake caliper.

These are the highest quality stainless brake lines that meet DOT specs at great prices. Our lines are made with stainless braiding and Teflon inner lines. The fittings are the correct BMW type and sizing and with swaged fittings and an additional rubber boot for protection.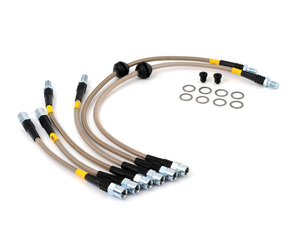 These braided stainless steel lines for the 2008 and newer E9X M3 improve the performance and safety of your M3's braking system. They are DOT and German TUV approved, feature a resilient coating to protect against wear and chafing, and offer tremendous quality at a phenomenal price. These brake lines are made by renowned brake experts, Stoptech, and are ready for the rigors of daily street driving, driving schools, autocross and race events. They fit all 2008, 2009, 2010 (and newer) BMW M3 V8. Each set includes 6Â brake lines as well as pre-installed grommets on the front for ideal fit.

Stoptech Stainless Steel Braided Brake Lines provide a quicker, firmer, more consistent pedal response by maintaining consistent brake pressure. Additionally, stainless steel lines provide precision brake modulation, especially during threshold braking. The improvement in pedal feel is more dramatic on older vehicles where the factory rubber line may have softened and swelled due to age.

StopTech brake lines consist of a PTFE (commonly referred to as Teflon) inner line that carries the brake fluid, which is then covered with a layer of stainless steel woven braid. The PTFE tube is very resistant to expansion under pressure and will not degrade from exposure to brake fluid.

The braided stainless steel provides support for the PTFE and the weave is extremely durable against incidental impact and abrasion. Next the stainless braided hose is coated with a clear abrasion resistant PVC cover for maximum protection against chaffing and strain relief devices reinforce end fittings.

These stainless brake lines fit the following BMWs:
2011 E82 BMW 1M Coupe
2008-2013 E90 M3 sedan
2008-2013 E92 M3 coupe
2008-2013 E93 M3 convertible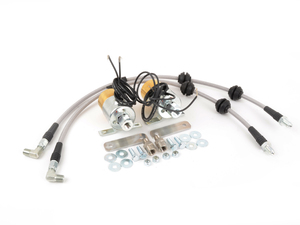 Do you want to do burnouts without having to worry about messing with the break pedal and clutch? The Burnout Perfection Line Lock Kit from AR Design can make doing burnouts much easier! Using two solenoids that lock up your front brakes only, all you have to do is give it some gas. This is great for when you need to warm up your tires at a track/strip or even just for fun and show.
This kit includes the following:
2 line lock solenoids - rated to 3,000PSI and designed to withstand extreme temperatures
2 custom mounting brackets
2 sets of DOT-approved stainless brake lines
2 brake fitting adapters
Needed wiring to connect to a switch.