E93 M3 Rohana Wheels
Rohana Wheels have over 15 years of experience in the aftermarket wheel industry. They strive to provide the highest level of quality and excellence in their products. Rohana offers uniquely designed wheels for high end luxury and performance vehicles. Their wheels are engineered to clear performance brakes with a lineup ranging from 19″ to 22″, along with staggered widths as wide as 12″. Catering to enthusiasts who seek stainless steel lips paired with maximum concavity. Exceptional knowledge and solid experience allows Rohana to develop innovative designs. RF Series: The RF Series Wheels are the latest in their line up using their new Rotary Forming manufacturing process. This technique employs 3 hydraulic rollers, with pressure and heat, to stretch the barrel of the wheel to the specified diameter. This method of manufacturing results in a natural uniform weight reduction while enhancing overall structural rigidity and durability of the wheel. RC Series: The RC Series carries the most concave designs using three concavities per wheel model. Their engineers took additional steps to ensure each vehicle is able to fit the most concave face profile without interfering with brake clearances. Each design features spoke arrangements that accentuate the depth of the wheel. Rohana is dedicated to provide the most innovative designs and highest quality in every wheel.
You're currently viewing parts for your
(E93) M3 Convertible 2008-2013
.
Reset your chassis

For accurate results, specify your model below.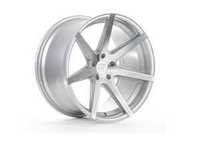 Rohana RC Style Wheels are constructed with one of three concave designs allowing for the optimum combination of brake clearance and concavity of the wheel's face. Each of these designs utilize long spokes that accentuate the depth of the wheel's face while providing a strong, sturdy, and durable wheel made to stand the rigors of both street and track conditions.
The RC7 wheel design is an asymmetrical seven spoke design that has an elegant, clean look.
Specs:
20"x9" (2) and 20x10" (2) RC7 Wheels
Brushed Titanium Finish
Offset: 20mm and 25mm
Center Bore: 74.1mm with 72.56mm hub adapter
Bolt Pattern: 5x120
Set of spline head tuner seat bolts with matching key/socket - 12x1.5 Thread Pitch

Part #: rc7209x2010KT
Direct Ship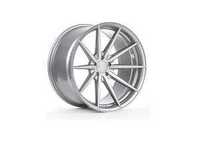 Rohana RF Series Wheels are the latest wheel design using a new manufacturing process called Rotary Forming. Using 3 hydraulic rollers and the application of heat and pressure, the barrel of the wheel is stretched to the desired diameter. In this process the alloy material is also compressed, increasing both the structural rigidity and the durability of the wheel. Also, this provides you with a lighter wheel that is exceptionally well balanced.
The RF1 style uses 10 thin spokes that equally distribute the load, creating a wheel that is not only durable and rigid, but will also turn heads on the track and at car shows.
Specs:
20"x9" (2) and 20x10" (2) RF1 Wheels
Brushed Titanium Finish
Offset: 20mm and 25mm
Center Bore: 74.1mm with 72.56mm hub adapter
Bolt Pattern: 5x120
Set of spline head tuner seat bolts with matching key/socket - 12x1.5 Thread Pitch

Part #: rf1209x2010KT12
Direct Ship