E93 M3 CATuned Coilover Kits
CATuned offers ride control solutions for an incredible range of BMWs, providing one of the only complete coilover systems, including hubs, for the E30. Their street coilover systems are excellent for giving your BMW the perfect stance and precise handling you would expect from a sport-tuned German performance car.
You're currently viewing parts for your
(E93) M3 Convertible 2008-2013
.
Reset your chassis

For accurate results, specify your model below.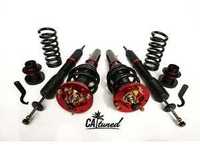 CATuned has produced a great set of coilovers for your BMW, designed with the enthusiast in mind. High-quality aluminum construction, 30-way adjustable, and designed from the ground up with your BMW in mind. Includes two coilover wrenches.
Front spring rate: 12/672 Rear spring rate: 14/784

Part #: CAE93M3
Direct Ship