BMW E93 Active Autowerke Superchargers
Supercharging is, without a doubt, the best "bang for the buck" as far as performance upgrades are concerned. Imagine the feeling of driving your M3 with an additional 50% (or more) horsepower and torque. Stomp on the gas and your BMW will respond immediately! No turbo lag, or loss of responsiveness. Just immediate gratification!
Supercharged cars drive just like a stock car on steroids! Highway gas mileage, drivability, and interior noise are virtually unaffected. Only a slight whining noise, heard only from outside the car, give away the fact that you are driving a car that will beat almost anything on the road.
Active Autowerke is the leading developer of supercharging systems for BMW's. With thousands of their supercharger systems on the road you can be assured of the quality, reliability and horsepower gains.
You're currently viewing parts for your
(E93) 3-Series Convertible 2007-2013
.
Reset your chassis

For accurate results, specify your model below.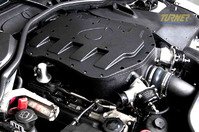 The advanced design and sleek features of the Active Autowerke Supercharger System include a front mount air-to-air intercooler system with a separate oil cooler for the supercharger unit's independent oil system. The Active Autowerke Supercharger Plenum replaces the factory air box and is designed to have an OEM-type look with custom finishes available at the customer's request. The Active Autowerke Supercharger Plenum has been designed with eight high-flow velocity stacks, and large three inch intercooler piping to supply cooled air.
The custom Active Autowerke Filter mounts to the supercharger unit and is enclosed in a custom intake box engineered to incorporate factory design while forcing cool air to the air box.
The standard finish on the Active Autowerke Supercharger Plenum is a matte wrinkle black, custom colors are also available for an additional cost.
The Active Autowerke Supercharger System is powered by an Rotrex C38-92 Supercharger Unit mounted with a custom CNC'ed bracket that uses a dedicated drive belt system, while eight high flow fuel injectors are used to supply the additional required fuel. Active Autowerke's Performance Software, available for 91-93 octane, race gas, and octane levels unique to other countries, is carefully calibrated, and is at the heart of the system to provide an unparalleled driving experience. Keeping within the factory's OBDII parameters, the Active Autowerke Supercharger System ensures consistency for everyday driving.
Key Features:
AA E9X M3 Supercharger Plenum with Eight High-flow Velocity stacks
Rotrex C38-92 Supercharger
AA Blow Off Valves & Bypass Valve
Dedicated Belt Drive System (does not share belt with accessories)
Eight-rib Pulley System
Eight High-capacity Bosch Motorsport Fuel Injectors
AA Performance Software for the MSS60 ECU with available upgrades and off road options
CNC Hard Anodized Brackets and Hardware
AA Front-mount Air to Air Intercooler
Independent Supercharger Oil Cooler
Longlife Traction Fluid for GTS8550 Supercharger
Cold Air Intake Box
AA Oil Breather System
New Oil Line with A/N Fitting System
High Performance AA Spec Filter
Colder Heat Range Spark Plugs
All mounting hardware (plumbing, hoses and clamps) included
Detailed, step-by-step installation manual
All installation hardware included
Two-year unlimited mileage warranty

Stage 1 Performance Specs: (At the Crank)
Boost: ~ 6 psi
Horsepower: 580 HP
Torque: 386 Ft Lbs
numbers may vary depending on engine,weather,etc.

Want even more power? Upgrade to the Stage 2 kit.
Stage 2 Performance Specs:
Boost: 8 psi
Horsepower: 640 HP
Torque: 413 Ft Lbs
numbers may vary depending on weather,conditions,etc


This item fits the following BMWs:
2008-2011 E90 BMW M3 - Sedan
2008-2013 E92 BMW M3 - Coupe
2008-2013 E93 BMW M3 - Convertible