BMW E93 H&R Performance Springs

H&R has been the leader in German-made performance springs since the 1970s. Lowering springs are not just about the looks and stance. Lowering the center of gravity, reducing bodyroll, and stiffening the suspension all lead to better handling on the road and the racetrack. H&R engineers spring sets for a number of different driving situations but most of all they are set up for street use. H&R springs lower the ride height and stiffen the spring rate with the goal of delivering flatter cornering and better handling balance on the road without hurting ride quality. We think the H&R ride quality is perfect for street use - not overly stiff for every day use but stiff enough that it makes a significant improvement (unlike other 'sport' springs on the market). And every H&R sport spring set is designed with TUV approval so that it functions just like a stock spring but with added performance benefits.
Turner Motorsport has branched out for non-BMW applications too! See our partner site
Allsprings.com for springs, coil overs, spacers, and other chassis upgrades for non-BMW applications.
You're currently viewing parts for your
(E93) 3-Series Convertible 2007-2013
.
Reset your chassis

For accurate results, specify your model below.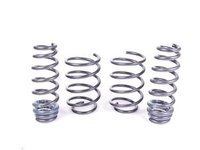 Front Lowering: -1.3"
Rear Lowering: -1.2"
Enhance the look of your BMW E93 3 series convertible with a reduced fender well gap. H&R Sport Springs lower the vehicle center of gravity and reduce body roll for better handling. The progressive spring rate design provides superb ride quality and comfort. A lower wind resistance signature will make the vehicle more streamlined and improve gas mileage. If you are only looking to improve one part of your vehicle's suspension, you cannot go wrong with installing Sport Springs. Fun to drive, H&R Sport Springs are the number one upgrade for your vehicle.
We recommend installing Bilstein Sport shocks with these lowering springs.
This item fits the following BMWs:
2007+
E93 BMW
328i Convertible 335i Convertible

Part #: 50490-5
Direct Ship
Free Shipping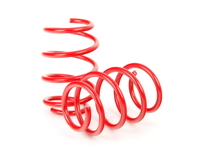 This H&R Sport spring kit Lowers ride height by 1.0" front, 0.6" rear over the stock suspension. Direct from Germany, H&R Springs are the highest quality sport springs available. This spring set will help firm up what many consider to be a fairly "soft" stock suspension (at least for a BMW "M" car). They will also make a subtle and noticeable visual improvement to the E93 M3's stance, reducing the perceived fender gap of the stock ride height. This spring kit fits all 2008 and newer E93 M3 convertible, with AND without electronic dampening control (EDC).
This item fits the following BMWs:
2008+
E93 BMW
M3 convertible

Part #: 29053-2
Direct Ship
Free Shipping