BMW F01 Internal Engine Parts

Rebuilding your engine or giving your cylinder head an overhaul? Internal engine components covers parts that are located within the engine block and cylinder head. Examples include: timing chains and tensioners, rocker arms, rod bolts and studs, head bolts, valve springs, connecting rods, and more. These are Genuine BMW engine parts, performance upgrades, or approved aftermarket brands that have a long track record of reliability and quality.

For accurate results, specify your model below.
If you are using a premium fastener, such as the ARP brand rod bolts, head bolts, or main bolts, then you will want this assembly lube. Made to be used to precisely duplicate all ARP fastener preload specifications. Available in 3 sizes -- single use 0.5oz packet, 1.69 fl oz tube, or 10oz bottle (select your size below)
ARP is a company that prides itself on performance and durability, no matter the application. Offering the finest engine hardware money can buy is the driving initiative at ARP and this is evidenced by the staggering amount of satisfied customers and race teams the world over.

Part #: TMS1733
Ships on Apr 10, 2018

Free Shipping
on orders $199 and up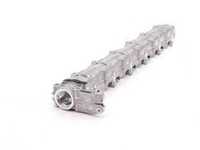 Genuine BMW Bearing Ledge Exhaust

When doing any sort of repair or maintenance there is no replacement for genuine factory parts. Turner Motorsport carries the Genuine BMW brand with pride and has the parts you need to complete your next project with confidence.
This item fits the following BMW Chassis:
E82 1M Coupe,E70 X5 X5,E71 X6,E82,E83 X3,E85 Z4,E86 Z4,E89 Z4,E90,E92,E93,F01,F02,F06,F10,F12,F13,F15,F16,F22,F25 X3,F26 X4 X4,F30,F32,F33,F34,F36,F80 M3,F82 M4,F83

Fits BMW Engines including:
N51,N52,N52N,N54,N54T,N55,S55


Part #: 11127531224
In Stock
Free Shipping

Oil pump chains can stretch over time or even snap at a weak point from prolonged stress. This would lead to oil starvation and engine failure and seizure. To prevent your engine from potentially suffering this fate, replace your chain with an OEM Schaeffler Pump Drive Chain. OEM replacement for BMW part # 11417572531.
OEM Schaeffler (INA, LuK, Ruville, & FAG) is an engineering company that focuses on high-performance, precision manufacturing. With their individual brands INA, Luk, and FAG providing exceptionally high quality parts directly to BMW, as well as countless other automotive companies, their history of reliability and variety of offered parts makes Schaeffler a go-to replacement parts provider for all of us here at Turner Motorsport.
As a leading source of high performance BMW parts and accessories since 1993, we at Turner Motorsport are honored to be the go-to supplier for tens of thousands of enthusiasts the world over. With over two decades of parts, service, and racing experience under our belt, we provide only quality performance and replacement parts. All of our performance parts are those we would (and do!) install and run on our own cars, as well as replacement parts that are Genuine BMW or from OEM manufacturers. We only offer parts we know you can trust to perform!

Part #: 11417572531
Ships on Apr 19, 2018