BMW F01 Supersprint Performance Exhaust Systems

Description: Supersprint Inc. was formed in 1955 with the objective of designing and building the highest quality exhaust systems in the world. That objective has been the driving force behind each Supersprint product from the first system built to those being developed for the future. When you purchase a Supersprint product you can be assured it is the highest quality available. All design is validated by extensive testing which includes hours of dyno testing on Supersprint's exclusive in-house Maha 4-wheel chassis dynamometer. When compared to a domestic stainless system, the Supersprint Stainless system showed a 30% flow improvement over the Factory M3 system. To protect against corrosion each non-stainless system receives an aluminized coating inside and out. All internal tubing, resonators and tail pipes are stainless steel. Packing material is longstrand stainless steel wool and rockwool. TÜV Approved.
Interested in a Supersprint exhaust for a car other than a BMW?
Our subsidiary company,
Supersprint.US
offers the full line of Supersprint products for all make and models. Check out
Supersprint.US now by clicking here.

For accurate results, specify your model below.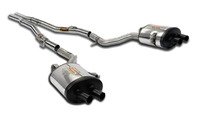 Free ground shipping!
Is the 740 exhaust too tame for your ears? Supersprint has designed this cat-back exhaust to give a little more volume and presence to the exhaust without detracting from the 7-series super-luxury base. Supersprint's 50+ years of exhaust design and manufacturing give them insight and expertise into tuning the exhaust for power and sound. With the F01/F02 740 they identified both the factory center resonator and rear mufflers as opporunities for increasing volume and giving them 740 a sportier exhaust sound. With this system you have two resonator options - a freer-flowing resonated design and an option to completely delete the resonator. Both options are used with the Supersprint performance mufflers which have been engineered to work with the stock exhaust tips in the bumper (see photos). This way you can get a louder and more sporting exhaust sound and retain a factory appearance.

Supersprint exhaust is widely recognized as the leader in complete exhaust system upgrades - extremely high quality, well designed for optimal flow, and amazing sound. Even at a premium price Supersprint is an unbeatable exhaust system because every aspect is done to such a high level. A Supersprint exhaust rewards you with a terrific sound, long lasting construction and excellent fitment. The Supersprint sound is very 'European' which fits the sporting sophistication of BMWs perfectly. Most systems are also modular - sections can be added or removed to custom tailor the exhaust sound to your preferance. Aside from 'Race' systems, their mufflers meet European noise laws so you get a refined and tuned sound without being excessively loud. Most Supersprint systems are built with larger diameter piping to improve exhaust flow which helps the engine do less work and make more horsepower! Supersprint exhausts generally run at a premium over other systems but no other system on the market can match their quality, performance, or reputation!
section:section 2 and rear mufflers
connects to:stock section 1/cats
tip style:retains stock tips in bumper
material:T304 stainless steel

This item fits the following BMWs:
2009+ F01 F02 BMW 740i 740li

Part #: 982234-982204
Ships on Mar 16, 2018
Free Shipping