BMW F02 Door Sill Strips

Most people don't look at their door sills when they open the door. It's not the first place your eyes drift to (especially on highly personalized interiors). But your door sills are prime real estate for some decoration. It's a very long space with and when something is there the eyes are drawn to it. BMW chooses to dress up this area with additional ///M or Individual branding. These door sill strips are Genuine BMW factory accessories.

For accurate results, specify your model below.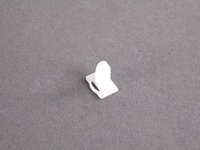 Fastens your door sill strip to the door sill. These plastic clips often break after years of changing temperature and becoming brittle.

Genuine BMW Clip Natur - L=13,2Mm
This item fits the following BMW Chassis:
E30 M3,E36 M3,E34 M5,E39 M5,E60 M5,E63 M6,E82 1M Coupe,E85 Z4M,E30,E34,E36,E38,E39,E46,E63,E65,E82,E85 Z4,E86 Z4,E89 Z4,F01,F02,F10,F13,F22,F30,F31,F32,F80 M3,F82 M4

Part #: 51471840960
In Stock

Free Shipping
on orders $99 and up