BMW F06 Water Pumps

When maintained, your BMW's cooling system should be bulletproof. The weakest link on any BMW model is likely to be the water pump, thermostat, or electrical parts on the newer models. BMW water pumps have gone through many design and material changes over the years in an effort to make the cooling system more efficient and reduce parasitic drag on the engine. The water pumps we sell are the latest and best designs that BMW and OEM suppliers can produce. Whenever possible we prefer to sell a water pump with a composite impeller, not metal. The latest BMW designs use a composite impeller that is far lighter than metal and much stronger than plastic. Metal impeller pumps are typically heavier and may have bearing problems that lead to premature leaks. Plastic pumps were infamous in the mid-1990s for disintegrating. The composite impellers have proven themselves for over a decade as a trouble-free and efficient design and many of the OEM suppliers are also introducing updated composite designs for older models too.
You're currently viewing parts for your
(F06) 6-Series Gran Coupe 2013+
.
Reset your chassis

For accurate results, specify your model below.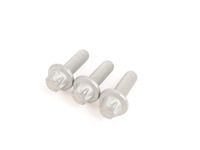 A recommended replacement for the stock OE screws, these OEM VDO screws have been updated to a steel composition, making it so that thses bolts may be reused any number of times without any issues.
OEM VDO is one of the largest OE providers in the world, supplying numerous vehicle brands, including BMW, with many of their genuine parts that build the vehicle before they ever reach the car lot. Entrusted by many of the top names in automotives and with their proven history of reliability, it makes all of us here at Turner confident that their line of OEM replacement parts are a perfect option to restore your vehicles original operation and performance. The same great quality or higher than Genuine BMW parts at a lower cost.
As a leading source of high performance BMW parts and accessories since 1993, we at Turner Motorsport are honored to be the go-to supplier for tens of thousands of enthusiasts the world over. With over two decades of parts, service, and racing experience under our belt, we provide only quality performance and replacement parts. All of our performance parts are those we would (and do!) install and run on our own cars, as well as replacement parts that are Genuine BMW or from OEM manufacturers. We only offer parts we know you can trust to perform

Part #: 11517602123
In Stock

Free Shipping
on orders $199 and up
This is the mounting bolt used for the water pump on all N55 engines as well as later (updated) N54 engines. These are sold per bolt and 3 are required for mounting the water pump.
This is a new and revised bolt design to match the updated water pump (
p/n 11517632426
). BMW changed the design for the N55 and all subsequent replacement N54 pumps. The updated pump does not use a rubber isolator in the mounting flange. The previous water pump did have this rubber mount and required a longer bolt. The new bolts are also zinc-coated grade 8.8 steel instead of aluminum. That means the new bolts are re-usable instead of 1-time use like the old design.
Sold per bolt. 3 are usually required for the N54/N55 water pump.
When doing any sort of repair or maintenance there is no replacement for genuine factory parts. Turner Motorsport carries the Genuine BMW brand with pride and has the parts you need to complete your next project with confidence.
This item fits the following BMWs:
2007-2012
E82 BMW
135i
2011
E90 BMW
335i 335xi 335i xDrive - Sedan
2011-2013
E92 BMW
335i 335xi 335i xDrive - Coupe
2011-2013
E93 BMW
335i - Convertible
2012+
F30 BMW
335i - Sedan
2007-2010
E60 BMW
535i 535xi 535i xDrive
2010+
F07 BMW
535i GT, 535i xDrive GT
2011+
F10 BMW
535i 535i xDrive
2012+
F13 BMW
640i
2009+
F01 BMW
740i 740li
2013+
E84 BMW
X1 35i
2011+
F25 BMW
X3 xDrive35i
2010+
E70 BMW
X5 xDrive35i

Part #: 11517602123
In Stock

Free Shipping
on orders $199 and up
The N54/N55's water pump is central to the car's cooling system as well as to the performance and fuel economy. BMW's engine efficiency design for these cars includes the water pump for balancing engine power output and efficiency and cooling responsibilities not only for the engine but also for the turbo(s) and transmission cooling. It's a very integral part of the engine. The N54/N55 engined cars already suffer from reduced cooling area because of the factory intercooler, tight space under the hood, and of course heat from the turbo(s). BMW addressed these challenges a number of ways, including a dynamic, 'smart' electric water pump with increased output compared to the N52. The cooling demands mean additional stress on the major cooling components, especially the water pump.
The N54/N55 water pump is electrically driven and varies output based on instructions from the engine computer. Under the best circumstances the pump drives only as much coolant as needed and will shut down or activate as load and performance demands change (combustion chamber temperatures are dynamically changed based on economy, normal, and performance demands). The pump can also run when the car is off to reduce heat soak in the engine and turbo(s). The water pump is now a factor in how much power and fuel economy your car is producing, making it all the more critical to replace during normal maintenance. If a fault or excessive temperature is reached, the dash cluster will display a yellow or red water temp icon depending on the severity of the condition. The car's electronics will begin shutting down various systems in the car to divert more resources to the cooling system. This can include reducing power output and activating 'limp mode'.
The best way to avoid problems and system failures? Preventative maintenance and overhaul of the cooling system, starting with the water pump (and thermostat).
This OEM VDO water pump is the latest design and replaces part number 11 51 7 563 659 (11517563659). It fits all cars with the N54 or N55 engine. Replacement of the aluminum mounting screws is required when changing the water pump (select from the options below). Proper bleeding procedures specific to the electric water pump should also be followed.
This item fits the following BMWs:
2008+
E82 BMW
135i 1M Coupe
2007+
E90 BMW
335i 335xi 335i xDrive - Sedan
2007+
E92 BMW
335i 335is 335xi 335i xDrive - Coupe
2007+
E93 BMW
335i - Convertible
2007-2010
E60 BMW
535i 535xi 535i xDrive
2010+
F07 BMW
535i GT, 535i xDrive GT
2011+
F10 BMW
535i 535i xDrive
2011+
F13 BMW
640i Coupe, 640i Convertible
2009+
F01 BMW
740i 740li
2011+
F25 BMW
X3 35iX
2010+
E70 BMW
X5 35iX
2007-2014
E71 BMW
X6 xDrive35i
2009+
Z4 BMW
Z4 sDrive35i Z4 sDrive35is
Packaged by Turner
Part #: 11517632426
In Stock
Free Shipping