BMW F06 Turbo Upgrades
If more boost and reliability are your goals choose from one of our BMW turbo upgrades. Our turbo upgrades range from stock turbos rebuilt with stronger internals to all-new, ground-up turbo upgrades. BMW turbos such as the N54 are capable of really impressive power numbers on stock engine internals but the factory turbos lack the precise tolerances and reliability that an upgraded unit will deliver. In other words, the stock turbos can only do so much and if big power (>400whp) is your goal a turbo upgrade must be in your plans. Our partners are leading experts in turbo technology and upgrades. Each Stage has been professionally developed and tested. Additional upgrades and tuning may be, or is, required. Contact us for more details on tuning options.
You're currently viewing parts for your
(F06) 6-Series Gran Coupe 2013+
.
Reset your chassis

For accurate results, specify your model below.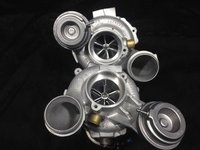 Vargas is among the first turbo specialists to release a Stage 1 upgrade for the S63TU V8. Using the stock housings but with improved internals, this S63 turbo upgrade is good up to 800whp. Stage 1 is a hybrid of stock and upgraded internals - a new larger higher-flow billet compressor wheel with specially machined housings for much improved flow characteristics. These are the first step in building an M5 super sled!
Vargas Turbo Technologies has been in business since 1979, offering rebuilt and re-engineered turbo solutions. Vargas rebuilds each turbo assembly with OEM or better internals, addressing known weak points at the same time. Because the Stage 1 uses stock turbo housings, all of the stock turbo plumbing and intake hoses will match up. It's recommended that the rest of the system be upgraded to handle your tuning goals. Custom software tuning will be required to achieve the correct fuel and timing curves.
Oil Recommendation - modern engine oil is formulated for emissions and to be environmentally friendly. The additives in current oil lowers the oil's ability to withstand high temperatures and stresses, lowering its shear strength and its lubricating properties. Vargas recommends oils with high ZDDP (zinc and phosphorus) content that will better protect and cool the turbo bearings. Examples of high-zinc oils are Red Line Race, Red Line Euro, Motul 300V Racing, Joe Gibbs Racing, Valvoline VR-1 oil, and most Diesel-spec oils that you can buy off-the-shelf. Some oils, especially the Race type, will need more frequent oil changes and may be harmful to catalytic converters.
WHP rating: 800. This rating is used to compare various stage of Vargas turbo kits. The number is a theoretical limit for how much power it could make. There is no advertised horsepower gain without consideration for additional tuning and upgrades. The rating is provided as a reference to use in your tuning planning.
Vargas turbos are rebuilt on an exchange basis so a core charge will apply. This will be refunded upon the return of your rebuildable original turbos.