BMW F06 Transmission Parts
Looking for parts for your BMW automatic transmission or manual transmission? You'll find many of the parts available to service your BMW's transmission here. While internal transmission servicing and rebuilding should be done by professionals, there are a lot of things on the outside of the transmission that you can service or replace yourself. These include gearbox seals, o-rings, gaskets, automatic transmission filters, backup light switches, mounting bolts, flanges, collar nuts, screw plugs, Mechatronics, and more.
You're currently viewing parts for your
(F06) 6-Series Gran Coupe 2013+
.
Reset your chassis

For accurate results, specify your model below.
This is the Genuine BMW transmission oil stainer for GS7S47BG and GS6-53BZ/DZ transmissions. We recommend getting the o-rings #07119963308 shown below.
This item fits the following BMWs:
2008-2011
E90 BMW
M3 - Sedan
2008-2013
E92 BMW
M3 - Coupe
2008-2013
E93 BMW
M3 - Convertible
2006-2010
E60 BMW
M5
2011+
F10 BMW
550i M5
2006-2010
E63 BMW
M6
2012+
F12 BMW
650i M6
2013+
F06 BMW
M6 Gran Coupe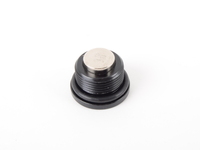 You use a magnetic drain plug for your engine oil, right? Why not apply the same proactive thinking to the differential too? This is a direct replacement magnetic DCT transmission drain plug for your BMW. It will catch and retain fine and larger metal particles in your diff oil. If you're proactive in your DCT oil servicing, you will catch a minor issue long before it becomes a headache. DCT drain plug includes one seal washer.
Rebuilding your shift linkage or upgrading to a short shift kit? Don't forget to replace this bushing at the back of the shifter arm. Over time this bushing breaks down and causing the shift linkage to become loose.
This item fits the following BMWs:
2008-2013
E82 BMW
128i 135i 135is 1M Coupe
1992-1998
E36 BMW
318i 318is 318ti 318ic 323is 323ic 325i 325is 325ic 328i 328is 328ic M3
1999-2005
E46 BMW
323i 323ci 325i 325ci 325xi 328i 328ci 330i 330ci 330xi M3
2006-2011
E90 BMW
325i 325xi 328i 328xi 328i xDrive 330i 330xi 335d 335i 335xi 335i xDrive M3 - Sedan
2006-2012
E91 BMW
325xi 328i 328xi 328i xDrive - Wagon
2007-2013
E92 BMW
328i 328xi 328i xDrive 335i 335is 335xi 335i xDrive M3 - Coupe
2007-2013
E93 BMW
328i 335i 335is M3 - Convertible
2015+
F80 BMW
M3
2012+
F30 BMW
320i 320i xDrive 328d 328d xDrive 328i 328i xDrive 335i 335i xDrive - Sedan
2014+
F34 BMW
328i xDrive GT - Gran Tourismo
2013+
F32 BMW
428i 435i 435i xDrive - Coupe
2013+
F33 BMW
428i Convertible 435i Convertible - Convertible
2014+
F36 BMW
428i Gran Coupe 435i Gran Coupe
2015+
F82 BMW
M4
1997-2003
E39 BMW
525i 528i 530i
2004-2010
E60 BMW
525i 525xi 530i 530xi 528i 528xi 528i xDrive 535i 535xi 535i xDrive 545i 550i M5
2011+
F10 BMW
535i 550i M5
2004-2010
E63 BMW
645ci 650i M6
2012+
F12 BMW
650i M6
2013+
F06 BMW
M6 Gran Coupe
2013+
E84 BMW
X1 xDrive28i
2004-2010
E83 BMW
X3 2.5i X3 3.0i X3 3.0si
1996-2002
Z3 BMW
Z3 1.9 Z3 2.3 Z3 2.5i Z3 2.8 Z3 3.0i M Roadster M Coupe
2003-2008
E85 BMW
Z4 2.5i Z4 3.0i Z4 3.0si Z4 M Roadster M Coupe
2009+
Z4 BMW
Z4 sDrive28i Z4 sDrive30i Z4 sDrive35i Z4 sDrive35is