CORSA is one of the largest automotive and high-end marine exhaust tuning companies in the USA with engineering and manufacturing facilities in Ohio and a patented, proprietary technology called Reflective Sound Cancellationa,,C/ (RSC, for short). CORSA consults to General Motors, Ford and Daimler-Chrysler and carries the title of "official licensed product" on its GM aftermarket exhaust systems.

The result of the CORSA's partnership and extensive research and development on the BMW 3 and 5 Series, is the new dronefree RSCa,,C/ exhaust system, delivering a pleasant sound at idle and cruise, and a muscular roar at high rpm. CORSA tuned this system specifically to counter drone. Sound pressure waves are reflected within the muffler case and unwanted noise frequencies are cancelled through patented Refective Sound Cancellationa,,C/ technology. Their straight-through design coupled with RSCa,,C/ noise cancellation technology allows them to tune out the undesirable low frequencies that cause droning, while reducing back pressure. A reduction in back pressure allows the engine to produce more horsepower and torque. The end result is a tuned muffler that produces the best sound and performance possible.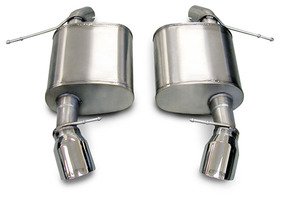 The Corsa sport mufflers for the F10 M5 boost horsepower and torque and make a nicer sound than hushed sounds of the stock M5 exhaust system. This Corsa Sport exhaust for the M5 works with the Active Sound to make more growl and rumble so you can actually enjoy the V8 sound. Using stainless steel tubing with their performance muffler design they are able to reduce exhaust restriction compared to the stock system. As well as the tuned exhaust note and drone-eliminating sound, the mufflers use a straight-thru flow design for maximum flow and the least amount of restriction. Decreasing the back-pressure helps the turbos work more efficiently, processing exhaust gases easier and releasing more horsepower and torque. Power gains on the dyno were measured at 13hp and 18ft-lbs of torque compared to stock.
Also included is the patented Corsa Reflective Sound Cancellation to eliminate drone (commonly found on most straight-through muffler designs.) We have tried this muffler upgrade on our own M5 and can report back that it makes slightly more burble and throatiness than stock while remaining composed and civilized. The new sound is especially noticeable from outside the car where there is a bit more 'boom' to go with the M5's immense punch.

Reflective Sound-Cancellation (RSC) technology - This feature is a patented non-electrical noise control system, where engine sound (pressure) waves are reflected in passages inside the muffler 180 degrees out of phase to cancel out unwanted sound waves. The result is a tuned muffler that "cleans up" the noise without eliminating the pure sound of power associated with a high-performance vehicle. Using the Corsa technology, the stainless steel mufflers are tuned to eliminate passenger cabin resonance and produce just the "right" sound. The result is quieter cruising with an awe-inspiring roar at full throttle. This system is amazingly quiet during normal cruising, due to the "no drone" RSC technology, yet still has an aggressive presence and full sound while under throttle. This makes for ideal sound for those that want an aggressive "roar" while driving hard, yet still want a more discrete lower volume for normal cruising.

This is an axle-back system, which replaces only the rear mufflers of the stock M5 exhaust. It's very easy and straightforward to install and the rest of the exhaust can remain on the car. The Corsa mufflers are designed to install at an existing cut-point in the factory exhaust which makes it easy to reinstall the original exhaust at any time (factory sleeve clamps required to reinstall). This system is 100% Made in the USA and carries a lifetime warranty from the manufacturer. This exhaust is emissions legal in all 50 states (no effect whatsoever on emissions, and there will not be any "Check Engine" warning lights).

section:rear mufflers
connects to:stock exhaust section up to the rear axle
tip style: 102mm quad round
material:T304 stainless steel

This item fits the following BMWs:
2012+ F10 BMW M5