BMW F10 Carbon Fiber Trunk Lids
Not only do these trunk lids provide a cosmetic enhancement in appearance, but they offer a considerable weight savings over the heavy steel factory BMW trunk lid. If you're after either weight savings for your BMW, a visual improvement, or BOTH, a carbon fiber trunk lid is a good option to consider.

For accurate results, specify your model below.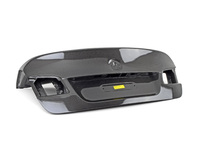 Show off the racing heritage of your F10 5 series with this Vorsteiner VRS Aero carbon fiber trunk lid! This carbon fiber boot lid is a direct replacement for the factory trunk lid with a look straight out of the motorsport catalog.
Vorsteiner is a company that was conceived through the imagination of creating the highest quality parts for the most discerning vehicles and clientele. Their relentless pursuit of advancement and perfection is seen not only in their unmatched automotive parts, but also in the hands of carbon fiber craftsmen to create purely sensational parts for the most deserving and elite vehicles.
Every Vorsteiner product is rigorously tested and must pass our highly detailed quality control before leaving the on-site Vorsteiner factory. Only after rigorous testing can a part be deemed worthy of the Vorsteiner name. Our clientele expect nothing less than perfection from Vorsteiner, and we welcome and exceed these expectations.
Vorsteiner's Autoclaved Pre-Preg Carbon Fiber structure gives our parts superior stiffness, aerospace strength & durability compared to traditional hand laid carbon fiber composites.
This item fits the following BMWs:
2011+
F10 BMW
528i 528i xDrive 535i 535i xDrive 535d 535d xDrive 550i 550i xDrive M5