BMW F10 Performance Short Shift Kits

A common BMW insider's trick is to use a shift lever from another model to make your own short shift kit. BMW has picked up on this retrofitting with their own series of short shift kits using all factory BMW parts. BMW Performance shift kits are among the most complete and easiest kits on the market - shift lever, nylon ball cup, boot, and shift knob are included in most kits. This is everything you would need to replace when installing a shift lever plus a new knob to top it all off. Shifts are reduced by 25% on most models. With a fresh lever and bushings you can restore precision and feel to your shifter. BMW short shift kits are easy to shift - not excessively notchy. This makes them perfect as a shifter refresh as well as an upgrade.

For accurate results, specify your model below.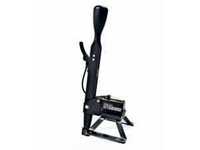 The shifter in manual BMWs are said to provide a perfect blend of a sporty and comfortable feel. For some, this is perfect. For others that daily drive or track their BMW, they want shorter shifter travel and a much tighter feel. If you are one of these people, then we have a great option for you, the Short Shifter V2 from IRP Germany.
IRP (Individual Race Parts) Germany is a performance aftermarket parts company that focus's on high quality and long term reliability. The Universal Short Shifter V2 was developed to express their beliefs and compete with the much more expensive CAE Ultra Shifter, but at half the cost. The entire shifter assembly is made from all anodized aluminum and stainless steel for strength, durability, and looks. The V2 is a perfect replacement when looking for a shifter that gives you short, crisp, precise shifts with a 60% reduction in travel. Each piece of the shifter is CNC-machined for precise fitment, a sharp look, and a smooth feel. This shifter also features a reverse lockout to prevent accidental mis-shifts into reverse. The V2 incorporates an handle located in the middle of the shifter that can be depressed to allow you to put the car in reverse.
In addition to all of these great features and amazing build quality, this shifter requires very little alteration for installation. In fact, the steering linkage is left completely stock and connects to this shifter as if it came with the car on day one. Only a slight modification is needed to the center console and, depending on the model, slight alteration to the trim surround.
The IRP V2 is compatible with all BMW ZF and Getrag 5 and 6 speed H pattern manual transmissions.
Features:
Aluminum and Stainless Steel Body
60% Shorter Shifter Throw
CNC Machined and Black Anodized
.935 kg Weight
Unaffected Clutch System and Shifter Linkage
Reverse Lockout with Handle Unlocking Integration
40cm x 15cm x 5cm

Part #: IRPSS-2
In Stock
Free Shipping