BMW F10 Gruppe M Cold-Air Intake Kits

Gruppe M carbon composite intakes join function with form to create beautiful and functional cold-air intakes and intake components. Gruppe M designs their intake systems to optimize flow in the limited space for the given application and to craft their designs from premium materials. Their kits increase horsepower by ducting cooler, denser air into the engine and save weight over bulky factory systems by employing lightweight carbon fiber and other composite materials. Gruppe M's intakes are proudly handmade using a blend of composite materials and stand out in the engine bay with beautiful carbon weave. They further engineer their systems to deliver an exotic and pleasing intake sound. GruppeM performance parts have been featured in numerous international automotive magazines, project cars, racing cars, and is regarded as the premiere aftermarket choice for air induction systems.

For accurate results, specify your model below.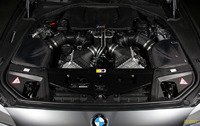 GruppeM RAM AIR SYSTEMS epitomize the GruppeM philosophy of attention to detail. By replacing the factory air handling systems, increased airflow streams into the combustion chamber.
On the GruppeM intake for the BMW F10 M5 the factory ductwork and airboxes are replaced with heat-shielding carbon fiber with enhanced inlets to capture the maximum amount of air. Lower intake air temperatures carry higher concentrations of oxygen, allowing for more energetic explosions and producing more horsepower and torque. Of course, reliability is never sacrificed -- high-efficiency, high-flow K&N air filter materials prevent contaminants from interfering with proper engine function. Distinct improvements in horsepower and torque can be observed from the dynomometer graphs shown along with the product images.
But the first thing you notice is the sound. With turbo engines the exhaust note is quieter so exhaust upgrades/changes are not always effective. These intakes greatly enhance the sound coming from the engine bay. Even with the M5's Active Sound feature you can still hear these intakes and their "gutteral whoosh" sound on every dip into the throttle. It's a slightly aggressive sound that should be pleasing to every enthusiast's ears. The stock M5 is just so quiet that they won't be out of place either. Even the sound of the turbos is enhanced. The difference between a stock intake and a GruppeM is worlds apart.
Note: during install, minor modifications to the front bumper may be required for clearance purposes.
These intakes are hand made in Japan. Please allow 2-4 weeks for delivery.
This item fits the following BMWs:
2012+
F10 BMW
M5
2012+
F12 BMW
M6
2013+
F06 BMW
M6 Gran Coupe

Part #: FRI-0330
Direct Ship