If more boost and reliability are your goals choose from one of our BMW turbo upgrades. Our turbo upgrades range from stock turbos rebuilt with stronger internals to all-new, ground-up turbo upgrades. BMW turbos such as the N54 are capable of really impressive power numbers on stock engine internals but the factory turbos lack the precise tolerances and reliability that an upgraded unit will deliver. In other words, the stock turbos can only do so much and if big power (>400whp) is your goal a turbo upgrade must be in your plans. Our partners are leading experts in turbo technology and upgrades. Each Stage has been professionally developed and tested. Additional upgrades and tuning may be, or is, required. Contact us for more details on tuning options.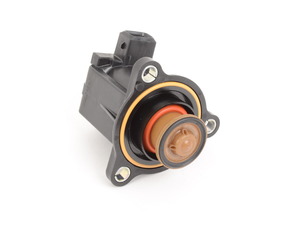 The diverter valve is responsible for redirecting boost away from the intake when it's not needed. Other cars use a blow-off valve to vent the pressurized air into the atmosphere (the whoosh sound commonly heard on turbo engines) but BMW and other makers use a diverter valve to keep the air circulating through the intake for emissions purposes. A failing diverter valve will lead to a boost leak as turbocharged air leaks past the seals instead of going into the engine when you want it. This is a minor issue on stock engines but a bigger issue on tuned or heavily modded engines (those will use an aluminum diverter valve instead of the stock plastic). The factory diverter valve is plastic which is prone to cracking and electric which will fail without warning. This is a direct replacement diverter valve for cars with the N55 and S63 (X5M/X6M) engines.
N55 takes 1 diverter valve.
S63 takes 2 diverter valves (1 per turbo).
This item fits the following BMW Chassis:
E70 X5M,E71 X6M,E70 X5 X5,E71 X6,E82,E90,E92,E93,F06,F10,F12,F13,F15,F16,F22,F25 X3,F26 X4 X4,F30,F32,F33,F34,F36
S63 engine applies to X5M/X6M only. Fxx M5/M6 uses S63TU engine and does not use a diverter valve at all.