If you're like us, then you enjoy taking your vehicle to the track whenever you get a chance. Whether you have a fully built track slayer or if you just enjoy taking your daily driver to autocross events, Turner Motorsport carries what you need to pass tech and, more importantly, keep yourself safe in the event of an accident.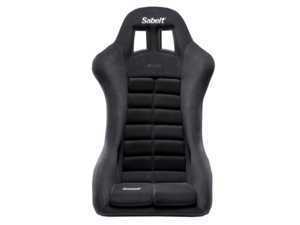 The GT3 is Sabelts' top-selling model. designed with an eye towards comfort, this seat provides support in all the right areas to make sure back and leg strain is reduced as much as possible. What you have is a seat that is just as comfortable on the track as it is on the interstate.
The shell is made from a lightweight gel-coated composite that holds the driver and protects along the sides of the seat as well. Moving further down the seat, the back is covered in VEP fabric with high-density foam cells that support and absorb vibration. Leg bolstering is extra deep and will keep you in an upright and stable position and the VEP fabric covering ensures long-lasting durability. The seat pad is removable which makes swapping and/or cleaning a breeze, and finally, a crotch strap hole in the bottom of the shell makes this seat compatible with 6-point harnesses.
Sabelt is a global leader in development and manufacture of original equipment car seats, seat belts, and motorsport products for racing activities. Through advanced and extensive crash test simulation, they are able to offer products that are proven to achieve the highest level of performance and safety.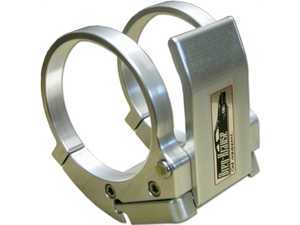 The Brey-Krause "Quick Release" Fire Extinguisher Mount is exquisitely CNC machined from T6 6061 billet aluminum and clear anodized for durability. The part design allows the fire extinguisher to be released from the bracket with one hand when time is of the essence. The bracket attaches to all existing fire extinguisher mounts and includes stainless steel hardware.
Mount holds any 3" fire extinguisher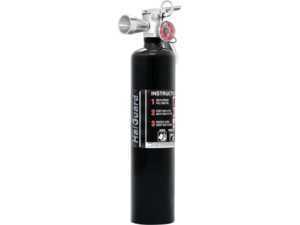 Track days can come to an abrupt ending when dealing with a vehicle fire. Causes can range from flammable fluids, such as leaking fuel, or overheating electronics and electrical shorts. Regardless of the cause, this can cause thousands of dollars of damage and can potentially become an immediate, life-threatening hazard if not properly handled. The best way to ensure your safety is to have a fire extinguisher on board that is made to put out any fires quickly and efficiently. You must also be certain that it is reliable enough to get the job done in an emergency. H3R Performance builds high quality extinguishers that feature strong steel cylinders, all metal valve construction, and aviation-quality steel mounting brackets all to make certain that this life saving device will function perfectly, without the worries of weak plastic valves or internals.
The HalGuard™ Clean Agent Extinguisher was specifically designed to combat fires in situations and places that water would only make worse, such as a fuel fire or electrical fires. These extinguishers contain Halotron® 1, an electrically non-conductive "clean" extinguisher that rapidly turns into gas and leaves behind no damaging residue that would need to be cleaned up and is environmentally friendly. Thanks to its liquid to gas evaporation, it can get in to hard to reach areas to properly extinguish any and all fire sources. It has also be extensively tested by the military and FAA for its fire fighting ability and is now the main extinguisher used at airports around the world.
Features:
No thermal shock to electronics
No mess or damage to vehicle or surfaces
Liquefied gas extinguishes hard-to-reach fires
Does not impair operator's vision
EPA approved
Listed and rated 2B:C by Underwriters Laboratories
Rechargeable
Made in U.S.A.
2-strap mounting bracket
6' - 10' discharge range
High quality steel cylinders
All metal valve construction
Compact, lightweight, easy to use
Five year limited warranty
Specifications:
Extinguishing Agent -- Halotron® 1
Agent (lb.) -- 2.5
Gross Weight (lb.) -- 5.4
U/L Rating -- 2 B:C
Height (inches) -- 14.8
Width (inches) -- 5.0
Depth-diameter (inches) -- 3.0
---