BMW F10 Borla Performance Exhaust Systems

We've been big fans of Borla Exhaust for BMWs since we opened our doors in 1993. Borla produces some of the best-sounding, lightest, longest lasting exhausts on the market. These systems are made in the USA with true T-304 stainless steel inside and out and backed with a 1,000,000 mile warranty. Borla puts and emphasis on quality by using stainless steel throughout their piping and muffler bodies (not a mild steel or coated aluminum). This ensures the muffler does not deteriorate from the inside out. Borla designs their exhausts to complement a BMW's understated sportiness, not overpower it. Borla produces each system to have a deep, sporty tone that doesn't offend or intrude on the cabin. So you hear the exhaust when you want to, not all the time. Most Borla BMW exhausts are a true-cat back and bolt or clamp to the original catalytic converter for an easy install. Each system is engineered for the application and refined in their own sound lab - changing pipe sizing, layout, and incorporating mufflers and/or resonators as needed to achieve a sporty yet refined sound. Borla also produces full race exhausts for the committed enthusiast with cat-delete and test pipes.

For accurate results, specify your model below.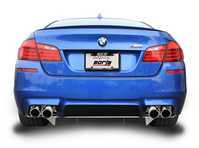 Unleash the sound of the F10 M5's V8 with this Borla exhaust system! The V8 sounds so nice with this exhaust, you'll wonder why BMW didn't spec it like this from the beginning. If you've felt the sound is too quiet and distant this is the perfect M5 exhaust upgrade. The middle S-Spec exhaust not too loud, not too quiet. It's just right. Borla builds their exhaust with the goal of enhancing the sound - not just making it outrageously loud. In fact, Borla exhausts deliver some of the quietest and most pleasing sounds of all of the aftermarket brands we have seen. This Borla exhaust produces a deep rumble perfectly suited to the V8. It's a throaty sound that any American muscle car fan will appreciate. Yet it manages to be civilized and unobtrusive when needed. This system bolts on after the factory catalytic converters for an easy install. This system features a 3.0" pipe diameter leading into the mufflers (2.25" on exit) with 3.5" tips.
Every Borla is made with 304 stainless steel for the internals and muffler body. Unlike other systems that can use coated aluminum, mild steel, or 409 stainless, the Borla uses true 304 stainless on the inside as well as the outside. This prevents the muffler from rusting and deteriorating from the inside out. Borla guarantees every muffler with a 1,000,000 mile warranty. Turner Motorsport has been the leading Borla dealer for BMW exhausts since we sold our first system in 1996, including using Borla Exhausts on every Turner BMW racecar.
This item fits the following BMWs:
2012+
F10 BMW
M5
Part #: 140511
Price: $2959.24 (USD)
$3324.99
(Sale - Save 11%)
Direct Ship
Free Shipping