BMW F12 KW Coil Over Suspensions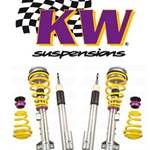 KW Coil-Over kits are the final answer to your suspension needs. For most BMW applications, KW makes a kit that will perfectly suit your expectations for ride, handling, fitment, and quality. KW's single-minded focus on coil over suspensions ensures proper vehicle-specific engineering with the correct suspension travel, fitment with OE or KW mounts, and ease-of-use. KW uses inox-stainless steel or aluminum on nearly all of their parts to ensure the maximum level of corrosion resistance. Every Variant kit has been tested and certified by Germany's TUV and comes with a limited lifetime warranty. Their fresh approach to complete suspension assemblies has won them praise from forums and shows to racetracks around the globe. KW uses different levels of kit specification - ranging from mild-mannered to hardcore track-only designs.
Variant 1 - Factory Pre-set Damping
- Each V1 Coilover has dampers perfectly tuned for the springs included with the kit. This delivers a comfortable but sporty and controlled ride without being jarring or uncomfortable.
Variant 2 - Rebound Adjustable Damping
- The V2 kit adds rebound control to the V1 kit. By making the rebound of the shock adjustable, you are more able to tune the handling of the car to suit your needs. Rebound works with the springs to help keep the tire pressed against the pavement. The compression dampening of the shock remains the same as V1.
Variant 3 - Rebound + Compression Adjustable Damping
- The V3 coilovers give you full control over rebound and compression rates and puts you one step closer to a true race-ready suspension. Shock Rebound (infinite) and Compression (14 positions) are adjusted independently so you can precisely change the handling charactertistics to get the best fit for indivdual tracks or fine-tune your car's ride to suit the roads in your area. You've got full control!
DDC - Dynamic Damping Control
- KW's own EDC system with electronically controlled shocks on their standard Variant X coil over assembly. This system replaces a factory EDC system or works as an EDC-upgrade. The driver can select any of 3 pre-set shocks damping modes. Or they can upgrade with a KW smartphone app and have greater control over the shock damping.
ClubSport - Rebound + Compression Adjustable Damping, Front Adjustable Camber Plates, Track-spec Spring Rates
- The KW Clubsport line is geared for track-focused cars where performance trumps everything else. These kits have stiffer springs with corresponding changes to the shock adjustment range, and front monoball bearing camber plates (for most BMW applications). Because of the narrow focus of this suspension, we recommend using it only on a racetrack. With solid mounts like monoball bearings you gain performance and agility in place of comfort. Shock, Rebound and Compression, and front camber are all adjustable independently so you can precisely change the handling charactertistics to get the lowest lap times for the track you're running. You've got ultimate control!
You're currently viewing parts for your
(F12) 6-Series Convertible 2012+
.
Reset your chassis

For accurate results, specify your model below.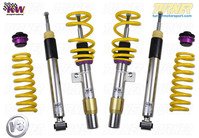 Adjustable Rebound & Compression Damping
Want full control? The KW V3 gives you multiple settings for both rebound and compression. You have full access over ride comfort and handling to dial in that perfect setup. Race teams rely on adjustments to get that perfect lap time and having shock controls at your fingertips is key. KW V3 features -
Separate adjustments for compression (14 positions) and rebound (infinite settings),
Stiffer springs over stock for less bodyroll than the standard suspension,
Stainless steel strut/shock bodies and composite spring perches for superior corrossion resistance,
Individually height-adjustable - Front = 25-55mm lowering; Rear = 20-50mm lowering,
TUV approved lowering range and operation,
Expert engineering and design for ease-of-use and long durability,
Whether you track the car often or only use it for backroad carving the V3 will give you the tools to set up an ideal handling condition. You can crank it up for smooth and fast surfaces or soften it for city or rough roads. Since each shock is 2-way adjustable you can alter the front-rear balance to account for brake dive or squat during power application coming out of the corner. You are in total control!

Coil over suspensions are better engineered suspension options compared to a standard shock + spring package. Since the springs and shocks in a coil over are designed by a team of engineers to work together, there is much better suspension travel and more precisely tuned specifications for spring and shock rates. Using separate shock and spring specs may result in premature coil bind or shock bottoming. And most coil over kits offer more features than the traditional packages. Coil overs are also more useful when larger wheels/tires are used because you can precisely set the ride heights to clear the new tires.

Fitment Note: Wheel spacers may be required depending on wheel/tire sizing and ride height setting.
Cars with EDC will require the EDC Cancellation Kit (not currently available). Cars without EDC do not need any extra materials.

Lifetime warranty!




This item fits the following BMWs:
2012+ F12 BMW 640i 650i
Not for cars with Adaptive Drive or EDC.

Part #: 3522000C
Direct Ship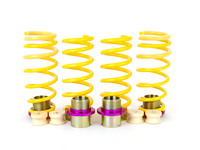 H.A.S - Height Adjustable Spring Kit
KW H.A.S - Height Adjustable Spring kits are a great alternative to conventional springs. You can adjust the height of your vehicle with the KW height adjuster. These kits are ideal for cars with either stock type shocks or the factory EDC - Electronic Damping Control - shocks, as the factory EDC system is retained. This lowering solution from KW optimizes the dynamic performance and steering behavior while still using the factory EDC system. This kit contains vehicle specific adjustable spring seats with adjusting KW lowering springs. This complete conversion allows an individual adjustable lowering solution.
Individual height adjustability
Works with EDC and Non-EDC suspension.
Improved looks and vehicle dynamics
Optimal Performance
Better steering
Lifetime warranty!




This item fits the following BMWs:
2012+ F12 BMW M6


Part #: 2532000W
Direct Ship
Free Shipping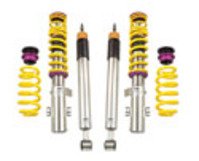 Adjustable Rebound & Compression Damping
Want full control? The KW V3 gives you multiple settings for both rebound and compression. You have full access over ride comfort and handling to dial in that perfect setup. Race teams rely on adjustments to get that perfect lap time and having shock controls at your fingertips is key. KW V3 features -
Separate adjustments for compression (14 positions) and rebound (infinite settings),
Stiffer springs over stock for less bodyroll than the standard suspension,
Stainless steel strut/shock bodies and composite spring perches for superior corrossion resistance,
Individually height-adjustable - Front = 15-45mm lowering; Rear = 10-40mm lowering,
TUV approved lowering range and operation,
Expert engineering and design for ease-of-use and long durability,
Whether you track the car often or only use it for backroad carving the V3 will give you the tools to set up an ideal handling condition. You can crank it up for smooth and fast surfaces or soften it for city or rough roads. Since each shock is 2-way adjustable you can alter the front-rear balance to account for brake dive or squat during power application coming out of the corner. You are in total control!

Coil over suspensions are better engineered suspension options compared to a standard shock + spring package. Since the springs and shocks in a coil over are designed by a team of engineers to work together, there is much better suspension travel and more precisely tuned specifications for spring and shock rates. Using separate shock and spring specs may result in premature coil bind or shock bottoming. And most coil over kits offer more features than the traditional packages. Coil overs are also more useful when larger wheels/tires are used because you can precisely set the ride heights to clear the new tires.

Fitment Note: Wheel spacers may be required depending on wheel/tire sizing and ride height setting.

Lifetime warranty!




This item fits the following BMWs:
2012+ F12 BMW M6


Part #: 3522000WX
Direct Ship