F12 Cooling System Tools
Service your BMW cooling system confidently with the tools trusted by professionals. Our pressure tester kit, pressure bleeder kit, and fin comb have been chosen for their effectiveness at providing complete and easy cooling system services without the hassles of hunting for leaks or spending an hour while making a mess bleeding your coolant.
You're currently viewing parts for your
(F12) 6-Series Convertible 2012+
.
Reset your chassis

For accurate results, specify your model below.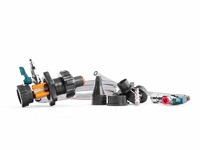 When it comes to BMW's we all know the weak point is commonly in the cooling system, many models proving hard to bleed the air pockets out after the refresh. The coolant refill tool solves this problem, ensuring that you get an air pocket free fill. The entire task is as simple as draining the system like normal, reinstalling the drain plugs and hooking the tool up to your refill location. The reason this tool works so well is due to the venturi valve, it converts air pressure from the compressor to vacuum inside the cooling system, then with a twist of a valve sucks coolant right into the system using the vacuum pressure.

This tool requires access to a standard air compressor with a minimum rating of 90 PSI (6.2 bar). A convenient, though not required part to complete the job is a container large enough to hold the entire coolant mixture capacity for your vehicle. This will dramatically reduce the risk of any unwanted air being drawn into the system. This tool is designed to refill the cooling system
after
it has been drained.

Part #: 003466SCH01
In Stock

Free Shipping
on orders $199 and up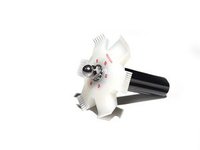 Straighten bent fins in heat exchangers like radiators, condensers, and intercoolers obstruct air flow and reduce heat transfer. Paper-thin fins are easily bent, even by slight pressure.
Features:
Six-sided tool fits several common fin spacings: 8, 9 10, 12, 14 and 15 fins per inch, so you can work on dozens of car makes.

Part #: 015326SCH01A
In Stock

Free Shipping
on orders $199 and up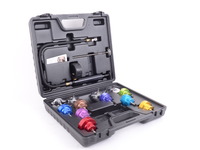 Are you refreshing your coolant system or having issues with coolant loss? An easy way to test your system for leaks and ensure you're able to maintain pressure without coolant loss is the Schwaben Cooling System Pressure Tester Kit. This kit has everything you need to attach and test your system: a hand operated pressure pump with an attached pressure gauge to carefully and accurately monitor the system's pressure, an attached 24" flex hose that connects with quick-couplers and adapters that tightly seal to prevent air pressure from escaping, 8 color-coded screw on radiator adapters and 4 twist on radiator caps, a temperature gauge, all needed instructions, and a sturdy blow-molded case to protect all components from damage.

This kit includes the following:
Hand operated pressure pump with a 0-35 psi gauge.
Long 24" flex hose between pump and quick coupler for adapters.
12 high quality adapters for radiator
Temperature gauge
Instruction Manual
Blow molded case

Part #: 014710SCH01A
In Stock

Free Shipping
on orders $199 and up