BMW F12 Clearance Parts
You're currently viewing parts for your
(F12) 6-Series Convertible 2012+
.
Reset your chassis

For accurate results, specify your model below.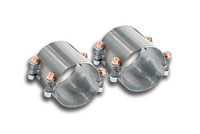 Free ground shipping!
These connecting sleeves allow the Supersprint center pipes to connect to the factory section 2 pipes. The stock exhaust has a similar clamping pipe to this but this is specific to the piping diameter and length of the Supersprint center pipes.

Supersprint exhaust is widely recognized as the leader in complete exhaust system upgrades - extremely high quality, well designed for optimal flow, and amazing sound. Even at a premium price Supersprint is an unbeatable exhaust system because every aspect is done to such a high level. A Supersprint exhaust rewards you with a terrific sound, long lasting construction and excellent fitment. The Supersprint sound is very 'European' which fits the sporting sophistication of BMWs perfectly. Most systems are also modular - sections can be added or removed to custom tailor the exhaust sound to your preferance. Aside from 'Race' systems, their mufflers meet European noise laws so you get a refined and tuned sound without being excessively loud. Most Supersprint systems are built with larger diameter piping to improve exhaust flow which helps the engine do less work and make more horsepower! Supersprint exhausts generally run at a premium over other systems but no other system on the market can match their quality, performance, or reputation!
section:connecting sleeve
connects to:Supersprint center pipes; OEM section 2
material:T304 stainless steel

This item fits the following BMWs:
2012+ F10 BMW M5
2012+ F12 F13 BMW M6
2012+ F06 BMW M6 Gran Coupe

Part #: 986744
In Stock
Free Shipping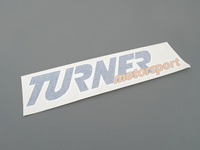 THE IDEAL TOOLBOX STICKER!
Cast some positive Turner vibes on your track build with this extra-large vinyl TURNER MOTORSPORT sticker. About as long as an arm, this is a great statement piece anywhere around the shop.
While supplies last. Limit one per customer, please!

Part #: 148-410
In Stock

Free Shipping
on orders $199 and up