BMW F13 VANOS Units & Parts
The BMW VANOS system (
va
riable
No
ckenwellen
s
teuerung - variable camshaft timing) was introduced in the early 1990s as a way of altering timing based on RPM and engine load to improve torque delivery, fuel economy, and engine smoothness. The first systems were single-VANOS and operated the intake cam only. Beginning in 1999, double-VANOS was introduced that did both intake and exhaust banks (on both inline-6 and V8 engines).
By 150,000 miles the original VANOS actuator solenoids, seals, and o-rings are usually due for a complete replacement. Some individual pieces may have been replaced already. Signs of a dying unit are loud marble-like rattles from the front of the engine, loss of power and mid-range torque, poor fuel economy, and fault codes for misfires and VANOS-related sensors. VANOS sensors, solenoids, and some other parts are available separately. VANOS units can be rebuilt by sourcing the seals and o-rings on their own but that process still requires expert mechanical knowledge and special tools. We prefer to offer complete, rebuilt VANOS units to make the replacement as seamless and trouble-free as possible for you.
Note: all VANOS systems require special tools for correct repair and replacement. These tools are BMW specific. If you do not possess these tools we strongly advise you to bring the parts to a qualified and experienced BMW technician who does.

For accurate results, specify your model below.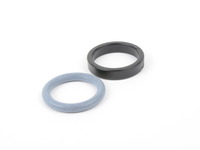 Rubber seals are often hardened and damaged by excessive heat and constant temperature changes causing them to become brittle and crack or split. If your seal has split, replace it with a new Elring seal for long reliability and to prevent further problems.
Elring is one of the biggest OEM names in the manufacturing of high quality gaskets that are available for very affordable prices. Elring has supplied many automotive names for years with the gaskets that seal your car's components from day 1 so you can rest assured that these components will last for a long time to come!
Fits the following BMW's:
E60, E61, E70, E82, E83, E88, E85 E86 E89 Z4, E9X, F01, F02, F07, F10
Fits the following Engines:
N52 N54 N55 S65 N63

Part #: 11367548459
In Stock

Free Shipping
on orders $199 and up
Genuine BMW Solenoid Valve (Solv)

When doing any sort of repair or maintenance there is no replacement for genuine factory parts. Turner Motorsport carries the Genuine BMW brand with pride and has the parts you need to complete your next project with confidence.
This item fits the following BMW Chassis:
E70 X5M,E71 X6M,E70 X5,E71 X6,E82,E90,E92,E93,F01,F02,F06,F10,F12,F13,F15,F16,F22,F25 X3,F26 X4 X4,F30,F32,F33,F34,F36,F80 M3,F82 M4,F83

Fits BMW Engines including:
N55,N63,N63N,S55,S63,S63N

Part #: 11368605123
In Stock

Free Shipping
on orders $199 and up