BMW F13 Akrapovic Performance Exhaust Systems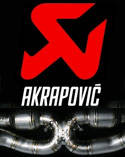 The Akrapovic (pronounced "Ack-rap'-o-vich") company was founded in 1990, based on the experience gained in the field of motorcycle tuning by Igor Akrapovic. Akrapovic is now the leading supplier of Titanium exhaust systems for cars and motorcycles, and are known internationally for their quality and performance. Akrapovic supplies exhausts to BMW Motorsport for racing applications such as the M3 GT4, BMW Motorrad, and many professional race organizations campaigning BMWs and Porsches. The titanium Akrapovic uses for their exhaust systems is produced exclusively for them. Their Titanium is three times stronger and more heat resistant than any other titanium product on the market, in addition to being 40% lighter than stainless steel. This high strength allows the use of thinner insulation while still achieving the highest quality standards, bringing decisive advantages both on and off the race track. The Akrapovic exhaust systems are the lightest and highest quality exhausts you can buy for a BMW. And as you'll find from their sound clips, they also have an amazing sound quality.

For accurate results, specify your model below.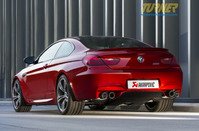 The 2012+ F12 M6 is one of the most impressive road cars ever created and the Akrapovic Evolution exhaust is the perfect enhancement. The new M TwinPower Turbo M6 has been a welcome challenge to the Akrapovic R&D department, which is responsible for developing truly amazing exhaust system that offer more power, weighs less, and have an EC type-approval stamp at the same time.

The new Evolution exhaust system consists of newly developed dual-outlet mufflers with exhaust valves, flow-optimized pipes, and a unique cast titanium X-shaped part with resonators. The X-pipe, valves, and flange assembly are produced in our foundry. To top off this work of art, we've got polished titanium and aerospace-grade carbon fiber tail pipes to choose from.

The Evolution system lowers the back pressure and gives the M6 more power and torque through the whole range of rpms. It increases responsiveness. The Evolution system offers an even greater difference in weight, improving the power-to-weight ratio. Gains are achieved without removing the catalytic converters. While developing this system, we especially focused on sound. An M6 with the Evolution system delivers a deep, aggressive roar when driven hard, coaxing bangs out of the unique tail pipes when shifting and going off the throttle. To top it all off, the Evolution system is drone free and works well with the M6's Active Noise Cancellation system just like the valve system, which is regulated through the M6's settings. Not for sale outside the US or Canada.

Performance Stats Stock Akrapovic Gain
Max Power (Hp) 562 @5990 rpm 571.5 @5950 rpm +10 hp @5950 rpm
Max Torque (lb-ft) 541 @4700 rpm 545.1 @4650 rpm +12.5 lb-ft @5200 rpm
Weight (lbs) 83.8 56.7 -27.1 lbs


This item fits the following BMWs:
2012+ F12 BMW M6
Part #: TMS24988
Ships in 8 days