Turner Motorsport has been tuning BMWs since 1993 and exhaust upgrades for BMW are one of our favorite modifications. Performance mufflers, headers, resonator-delete, muffler-delete, race exhaust, and other exhaust upgrades have all been a part of our tuning outline since the beginning. Upgraded exhausts have multiple benefits: better sound, lighter weight, and power and torque gains. Although we sell multiple exhaust product lines (Borla, Corsa, Supersprint, Akrapovic, and others) there are times when we desire something unique and different. These exhausts are our own design with concept and engineering done by our own designers and staff and then trial-tested on our project and employee cars to ensure our design objectives are met.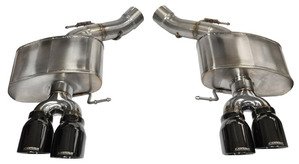 Sale - Save 10%
$1,599.00
Starting at

$1,439.10
Sale - Save 10%
$1,599.00
Turner Motorsport has partnered with Corsa Exhausts for the development of sport mufflers for the F13 M6. Our goals were to boost horsepower and torque and make a more pleasing sound than hushed sounds of the stock M6 exhaust system. The Turner/Corsa Sport exhaust for the M6 works with the Active Sound to make more growl and rumble so you can actually enjoy the V8 sound. Using stainless steel tubing with their performance muffler design they are able to reduce exhaust restriction compared to the stock system. As well as the tuned exhaust note and drone-eliminating sound, the mufflers use a straight-thru flow design for maximum flow and the least amount of restriction. Decreasing the back-pressure helps the turbos work more efficiently, processing exhaust gases easier and releasing more horsepower and torque. Power gains on the dyno were measured at 13hp and 18ft-lbs of torque compared to stock. Also included is the patented Corsa Reflective Sound Cancellation to eliminate drone (a common problem with most straight-through muffler designs). This system was developed on our own M5 and it makes slightly more burble and throatiness than stock while remaining composed and civilized. The new sound is especially noticeable from outside the car where there is a bit more 'boom' to go with the M6's immense punch.

Reflective Sound-Cancellation (RSC) technology - This feature is a patented non-electrical noise control system, where engine sound (pressure) waves are reflected in passages inside the muffler 180 degrees out of phase to cancel out unwanted sound waves. The result is a tuned muffler that "cleans up" the noise without eliminating the pure sound of power associated with a high-performance vehicle. Using the Corsa technology, the stainless steel mufflers are tuned to eliminate passenger cabin resonance and produce just the "right" sound. The result is quieter cruising with an awe-inspiring roar at full throttle. This system is amazingly quiet during normal cruising, due to the "no drone" RSC technology, yet still has an aggressive presence and full sound while under throttle. This makes for ideal sound for those that want an aggressive "roar" while driving hard, yet still want a more discrete lower volume for normal cruising.

This is an axle-back system, which replaces only the rear mufflers of the stock M6 exhaust. It's very easy and straightforward to install and the rest of the exhaust can remain on the car. The mufflers are designed to install at an existing cut-point in the factory exhaust which makes it easy to reinstall the original exhaust at any time (factory sleeve clamps required to reinstall). Multiple tip styles are available (the tips are shared with our Race Inspired muffler delete). This system is 100% Made in the USA and carries a lifetime warranty from the manufacturer. This exhaust is emissions legal in all 50 states (no effect whatsoever on emissions, and there will not be any "Check Engine" warning lights). Installation instructions are available by clicking here.

section:rear mufflers
connects to:stock exhaust after the rear axle
tip style:polished stainless or black 102mm (4.0") quad round with Turner logo
material:T304 stainless steel

This item fits the following BMWs:
2013+ F12 F13 BMW M6

Sale - Save 15%
$1,249.00
Starting at

$1,061.65
Sale - Save 15%
$1,249.00
Our Race Inspired exhaust deletes the rear mufflers in the F13 M6 and F06 M6 Gran Coupe to allow more of the exhaust sound to be heard. We love our M6 but it's just too quiet so we looked at ways to get more of the stock exhaust to be heard. After evaluating the stock exhaust layout it was easy to see that removing the rear mufflers would accomplish what we wanted. But cutting the mufflers off is just the beginning. We then had to develop a set of pipes and design a set of tips that fit perfectly and also looked right at home on the Coupe and Gran Coupe. Our Race Inspired Exhaust is the finished product.

Our axle-back exhaust is made from a 304 stainless steel tube in the same diameter as the stock exhaust and with mandrel bends for unimpeded flow. It fits with the stock hangers and is clamped to the stock exhaust pipes once the factory mufflers are cut off. The entire installation can be done in about an hour with the exhaust on the car. With factory BMW clamps, available from us as well, you can easily re-install your stock mufflers at any time. Our tips are also stainless in a perfectly proportioned 102mm (4.0" diameter). They fill out the rear bumper valence perfectly - not too small like stock and not boy-racer large. Tips are available in polished silver or satin black. We have designed our tips to fit both the standard coupe and Gran Coupe bumpers.

The final result is that removing the stock mufflers really lets the M6 V8 sing! With the mufflers and flapper valves removed the sound on start-up is scintillating. The sound from the S63TU engine is robust and intoxicating - it just needs to be heard! From outside, the muffler-delete exhaust makes the car seem all the more impressive. From the burble at idle to the roar under full throttle there is little doubt that this is a proper M car. Inside the car during normal driving the sound is not changed much thanks to the Active Sound Design system. It's a little louder but not intrusive or irritating. Around town the car sounds much like stock but just a touch louder and deeper. The exhaust pops and burbles more with each downshift, especially in Sport Plus Mode. On the highway at 70-80 cruising speeds it sounds similar to the stock exhaust. As far as "drone" goes-- we only experienced a slight drone at very low speeds in a high gear (i.e. - lugging the engine) which we normally wouldn't do. If you purchase this system and it's simply too loud for your neighbors or wife's taste, we have the simple solution. We sell resonators that bolt in place, knocking the volume down by approximately 50%.

Our Race Inspired M6 exhaust is perfect for enhancing and accentuating the stock sound. It lets more of the M6's soundtrack come through without extensive exhaust modifications. If you want to enjoy the M6's sound more, think of this as its volume knob turned up.
Click here for more in-depth information on the development and installation of the M5/M6 muffler-delete system, including video and photos.


This item fits the following BMWs:
2012+ F12 F13 BMW M6 Coupe, M6 Convertible
2012+ F06 BMW M6 Gran Coupe