BMW F15 Ignition Caps, Rotors

Your BMW's ignition system is critical for smooth engine operation. This category contains parts used in the BMW ignition system, including spark plugs, ignition coils, spark plug wires and boots, ignition rotors and caps, distributors and distributor caps. On most 1991 and later model BMWs, your car has what's known as a coil-on-plug system, where each cylinder has its own ignition coil that sits directly atop the spark plug (so you won't have spark plug wires on those BMWs.) A fresh set of spark plugs is an essential part of any BMW engine tune up.

For accurate results, specify your model below.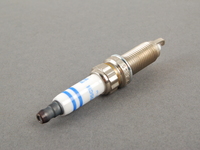 Bosch ZR5TPP33S spark plug for engines. Listed as BMW part #'s 12120037582 and 12120037575. Over time spark plugs become contaminated, worn, and "fouled out". This can cause a weak or missing spark leading to issues with fuel efficiency, misfires, check engine codes, and poor idle or even direct damage to your catalytic converter. This OEM spark plug made by Bosch will restore OE spark plug operation and function, returning lost power and fuel efficiency.
Bosch is one of the largest OEM producers of Genuine BMW and aftermarket parts in the world, providing parts for almost every major automotive manufacturer. Bosch has likely supplied many of the original electrical (and mechanical) parts for your BMW. Thanks to their quality, high durability, and reliability, you should expect a long service life from Bosch products.
As a leading source of high performance BMW parts and accessories since 1993, we at Turner Motorsport are honored to be the go-to supplier for tens of thousands of enthusiasts the world over. With over two decades of parts, service, and racing experience under our belt, we provide only quality performance and replacement parts. All of our performance parts are those we would (and do!) install and run on our own cars, as well as replacement parts that are Genuine BMW or from OEM manufacturers. We only offer parts we know you can trust to perform!

Part #: 12120037582
In Stock

Free Shipping
on orders $199 and up