F22 Apex ARC-8 Wheels
The ARC-8 was designed to have the perfect balance of performance, fit, durability, and value. From the daily driver to a professional racecar, the ARC-8 delivers style along with performance and features that make it the perfect wheel, no matter how you drive your BMW.

For accurate results, specify your model below.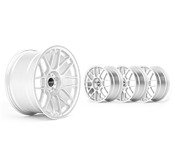 This category contains 4 parts that may fit your (F22) 2-Series Coupe 2014+
This category contains 2 parts that may fit your (F22) 2-Series Coupe 2014+


This category contains 1 part that may fit your (F22) 2-Series Coupe 2014+