Since 1993 Turner Motorsport has been at the forefront of performance tuning for BMWs. We show this best in our tuned Performance Packages, developed along stages for specific BMW models. Each staged Package is tuned in-house, bringing together expertise from our street tuning division, service shop, and race team. Nearly all of our Packages feature custom-tuned performance software from the best names in the business. The software is the best feature in our kits, maximizing power gains while doing nothing to affect engine reliability or driveability. In most cases, Stages are upgradeable - you can jump from one stage to another by purchasing the new parts and revised software (contact us directly about buying parts outside of the Stage). Or jump right into a higher stage by purchasing the complete kit. We'll work with you to select the appropriate parts and a matching software tune. Nearly all of our Packages have been tested and tuned on our in-house Dynapack Chassis Dyno. Our packages are designed for US-spec models only.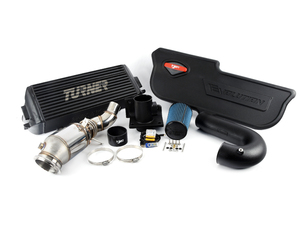 MORE POWER, BETTER DRIVEABILITY, LESS HEAT SOAK!
Max HP gain up to = 56+ hp
Max Trq gain up to = 82+ ft-lbs
Decades of tuning for the street and track has helped us understand what's important to the BMW tuning community - highly effective, reliable, consistent performance tuning that heightens the BMW driving experience. In order to build on this success, our calibrator dedicated months of testing, tuning, and re-testing our 2013 F30 328i on our in-house Mustang dyno to ensure we were delivering a tuning and intake/intercooler package that works seamlessly with stock hardware, while also offering the ability to capitalize on the additional engine power to be found through common modifications to exhaust.
Our Stage 3 tune package is designed for owners looking to safely maximize N20 power. Our 328i saw max gains of +56 horsepower, +82 ft/lbs torque with an Injen Evolution intake, Turner Motorsport Stepped Intercooler, Wagner downpipe, and Supersprint muffler. This package includes an Injen intake, Turner intercooler, and Wagner downpipe - leaving your exhaust up to you (there are so many good options!)
We particularly like the Injen Evolution intake for a few key reasons: it utilizes the factory cold-air duct to pull cooler air from behind the bumper, offers a great intake tone, and offers a cohesive appearance with excellent fitment. Further still, it flows very well.
Our Turner Motorsport Stepped Intercooler offers a whopping 56% increase in surface and cross-sectional and frontal area, while our testing indicated a whopping 140 degree temperature drop (versus 95 degrees with the stock intercooler). We particularly like the Injen Evolution intake for a few key reasons: it utilizes the factory cold-air duct to pull cooler