BMW F23 Gruppe M Cold-Air Intake Kits

Gruppe M carbon composite intakes join function with form to create beautiful and functional cold-air intakes and intake components. Gruppe M designs their intake systems to optimize flow in the limited space for the given application and to craft their designs from premium materials. Their kits increase horsepower by ducting cooler, denser air into the engine and save weight over bulky factory systems by employing lightweight carbon fiber and other composite materials. Gruppe M's intakes are proudly handmade using a blend of composite materials and stand out in the engine bay with beautiful carbon weave. They further engineer their systems to deliver an exotic and pleasing intake sound. GruppeM performance parts have been featured in numerous international automotive magazines, project cars, racing cars, and is regarded as the premiere aftermarket choice for air induction systems.
You're currently viewing parts for your
(F23) 2-Series Convertible 2014+
.
Reset your chassis

For accurate results, specify your model below.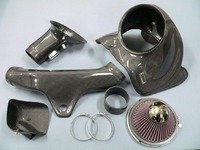 The GruppeM intake expands the intake ducting for the F32 435i and M235i with N55 engine - generating more cool air for the engine to make more power at high RPM. GruppeM has designed their intakes to take advantage of a ram-air effect for the 328i. Ducts located in the grille area scoop air and deliver it to the carbon composite Gruppe M air chambers. All of the duct work is designed to maximize air volume and velocity. The 435i needs as much air as possible to make power at higher RPM. All of the duct pieces are hand made from carbon fiber and other composites. The air boxes are finished in a high gloss clearcoat. These intakes are hand made in Japan. Please allow 2-4 weeks for delivery.
This item fits the following BMWs:
2012+
F20 BMW
M135i - Euro Model
2012+
F30 BMW
335i 335i xDrive - Sedan
2013+
F32 BMW
435i 435i xDrive - Coupe
2013+
F33 BMW
435i Convertible - Convertible
2014+
F22 BMW
M235i

Part #: FRI-0336
Direct Ship
Free Shipping