BMW F23 Posi-Quiet Semi-Metallic Brake Pads

Looking for a great performing, dust-free street pad? These are the pads for you. The Centric Posi Quiet brake pads are ideal to use for both normal and high performance street driving. The unique semi metallic pad material eliminates much of the brake dust residue, noise, and fading that can be found when using OEM pads. These pads are EXTREMELY easy on rotors. Don't let the price fool you, although these pads are 1/3 the price of factory replacements they are a superior pad. Price is per "axle" set. For some models we also offer OEM replacement pads. These pads have the same driving and wear characteristics as stock but are about 1/3 the cost of Original BMW pads. Not recommended for track use.
Centric Posi-Quiet Attributes:
Outstanding wear characteristics
100% scorched for easy bed-in.
100% shimmed to eliminate noise and vibration.
Positive Molded for even wear characteristics.
Post cured for consistent performance throughout the service life of the brake pad.
Stable friction performance across a wide temperature range.
Hardware included. *Where applicable.
100% Asbestos-free formulas.
Copper free friction formulas.
You're currently viewing parts for your
(F23) 2-Series Convertible 2014+
.
Reset your chassis

For accurate results, specify your model below.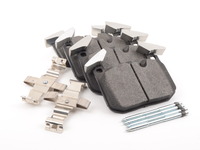 Centric Posi Quiet Brake pads surpass the braking performance of stock pads but do it with far less dust. This semi-metallic pad compound is very easy to use on the street with excellent feel and initial bite and low noise. But the best thing we like with these pads is how little dust they produce. You will be amazed at how little dust there is on your wheels after a week of use. These are a great replacement pad for fans of the discontinued PBR Metal Master Pads.

These pads fit a wide range of F30/F32 brakes. These pads will work in any F30 that has the factory 4-piston Brembo calipers on the front (328/428 M Sport S2NHA, base 335/435, M Sport 335/435, and all M Performance).

There are many variations of F30 brake packages so we encourage every F30 owner to visit our brake FAQ pages -
Brake Package FAQ
F30 328i Brake Package Differences
F30 335i Brake Package Differences

Position: both front calipers.

This item fits the following BMWs with their stock braking systems:
2014+ F22 BMW M235i M235iX
2012+ F30 BMW 335i 335xi - Sedan
2014+ F32 BMW 435i 435iX - Coupe
2014+ F33 BMW 435i 435iX - Convertible
2014+ F34 BMW 335iX - Gran Turismo
2014+ F36 BMW 435i 435iX - Gran Coupe

This item fits the following BMWs with the S2NHA M Sport brake option:
2014+ F22 BMW 228i 228iX
2012+ F30 BMW 328i 328xi - Sedan
2012+ F31 BMW 328i 328iX - Wagon
2014+ F32 BMW 428i 428iX - Coupe
2014+ F33 BMW 428i 428iX - Convertible
2014+ F34 BMW 328i 328iX - Gran Turismo
2014+ F36 BMW 428i 428iX - Gran Coupe

This item also fits all F30 BMWs with the M Performance accessory upgrade.

Part #: 104.16090
In Stock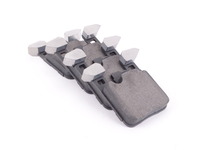 Centric Posi Quiet Brake pads surpass the braking performance of stock pads but do it with far less dust. This semi-metallic pad compound is very easy to use on the street with excellent feel and initial bite and low noise. But the best thing we like with these pads is how little dust they produce. You will be amazed at how little dust there is on your wheels after a week of use. These are a great replacement pad for fans of the discontinued PBR Metal Master Pads.

These pads fit the standard brakes that came on the 2014+ M Sport brake upgrade (with blue calipers) and the M Performance brake package on the F22 2-series, F30 3-series, and F32 4-series. The M Sport brake upgrade was offered as a stand-alone option and consisted of larger rotors and a 2-piston Brembo rear caliper. The front and rear calipers were blue with the ///M logo. The M Performance brakes were a dealer-installed accessory option and came in red, orange, or yellow/gold caliper colors.

There are many variations of F30 brake packages so we encourage every F30 owner to visit our brake FAQ pages -
Brake Package FAQ
F30 328i Brake Package Differences
F30 335i Brake Package Differences

Position: both rear calipers.

This brake pad set fits the following BMWs:
2014+ F22 BMW M235i (with M Sport or M Performance brakes)
2012-2013 F30 BMW 335i 335xi (with M Sport or M Performance brakes)
2014+ F32 F33 BMW 435i 435xi (with M Sport or M Performance brakes)

Part #: TMS221922
In Stock