BMW F26 iPod iPhone Adaptors & Auxiliary Input Kits
The Ultimate in BMW iPod - iPhone integration kits! This DICE iPod - iPhone integration kit allows full control of your iPod from the factory radio or steering wheel controls (on applicable models), displays the song/artist/album/playlist on screen of radio/Nav (2000+ models), charges your iPod - iPhone, features Auxiliary Input 1/8" Jack for playing tunes through non-iPod devices (Zune, Android Phones etc), and much more!

For accurate results, specify your model below.
Hands-free calling for vehicles not equipped with factory installed Bluetooth™. Universal - can be used in any BMW or other car. Built in noise reduction and echo cancellation technology. Blue LED back lighting to signal an incoming call. Omni-directional microphone for improved sound quality. 14 hour talk time.

Part #: 84642219270
Ships in 5 days

Free Shipping
on orders $199 and up
Genuine BMW Music Adapter for Apple iPhone 5, iPhone 5s, iPhone 6, iPhone 6S -Lightning
Genuine BMW Music Adapter - Lightning. Simply plug one end of the cable into your iPhone and the other end into the USB/Audio input and you can listen to music right through your BMW's speakers, and control it through the radio.-
For BMW's without an in dash navigation system/screen.
This item fits the following BMW Chassis:
E60 M5,E63 M6,E70 X5M,E71 X6M,E82 1M Coupe,E63,E65,E70 X5,E71 X6,E82,E89 Z4,E90,E92,E93,F01,F02,F06,F10,F12,F13,F22,F25 X3,
Thru 6/2013

Part #: 61122408012
In Stock

Free Shipping
on orders $199 and up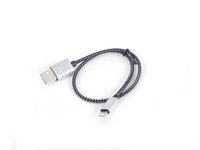 This cable is a convenient accessory for keeping a device powered up no matter where your travels take you. The charge and sync cable can be utilized in vehicle or in home. To use in vehicle, simply connect the vehicle USB port. If the vehicle is not equipped with a USB port, our single or dual USB charger would be an excellent additional accessory. Not only is this cable pleasing to the eye, it is constructed from the best possible materials. Cable ends are made of metal and utilize high grade electrical connectors. The cable portion utilizes braided wiring and reinforced junctions. All of these attributes make up a very attractive yet functional charge/sync cable.
Only for cars with Navigation and USB interface
This item fits the following BMW Chassis:
E60 M5,E63 M6,E70 X5M,E71 X6M,E82 1M Coupe,E63,E65,E70 X5,E71 X6,E82,E89 Z4,E90,E92,E93,F01,F02,F06,F10,F12,F13,F22,F25 X3,F30,F31,F34
Thru 2/2013

Part #: 61122354478
Ships in 5 days

Free Shipping
on orders $199 and up