If you are replacing crusty old exhaust components or switching to an aftermarket performance exhaust, removing your existing system may be next to impossible without some help from the proper tools. Our exhaust cutters and hanger tools are located on this page and ensure your exhaust will come out hassle-free.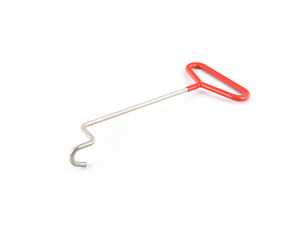 This tool is not vehicle specific and is a universal tool that may or may not work on all applications.
This exhaust doughnut stretcher features an offset J-hook to grab onto the rubber rings used to mount most BMW exhaust systems. Features a large coated handle for a comfortable grip.
From 1974 to 2019, Bavarian Autosport was one of the premier vendors for BMW and MINI auto parts. We are happy to preserve the Bav Auto legacy by continuing to carry their high-quality products into the future. All Bav Auto parts will remain unchanged in design and sourced from the same OEM suppliers to ensure long-lasting reliability. We trust these parts, accessories, and upgrades so confidently that we back every Bavarian Autosport branded component with a 2-year warranty.