BMW F26 Oil Filters & Oil Filter Kits
What is more important to your engine than its oil supply? You can change your oil as many times as you want but if you don't change the oil filter you might as well dump the old oil back in! Replace your oil filter with every oil change (per BMW's recommendation) and you'll never worry about dirty oil again. We supply filters from the OEM Suppliers to BMW - Mahle, Mann, or OE BMW.

For accurate results, specify your model below.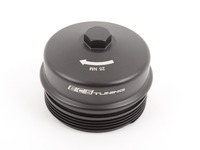 BMW uses a lot of plastic in their engine components to save weight and money. Unfortunately, plastic is damaged easily and the factory oil filter cap needs a special tool to remove. This aluminum cap is much more sturdy and features a standard 17mm hex post on the top. 17mm is also the size of your engine oil drain plug, reducing the number of tools that you need to complete an oil change. This cap is designed to use the original o-ring seal so no special parts are required. You only have to remove the original 'filter cage' from the original cap and transfer it to the new aluminum cap. The satin black anodize blends in with the rest of your engine bay making this a smart and subtle upgrade.

Part #: 003296ECS01

Free Shipping
on orders $199 and up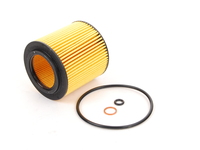 The oil filter is one of the most simple and yet crucial components of your vehicle, preventing contaminants from flowing back into the engine causing excessive wear and damage. Why buy a cheap alternative when you can have peace of mind with this high quality Bosch oil filter?
Bosch is one of the largest OEM producers of Genuine BMW and aftermarket parts in the world, providing parts for almost every major automotive manufacturer. Bosch has likely supplied many of the original electrical (and mechanical) parts for your BMW. Thanks to their quality, high durability, and reliability, you should expect a long service life from Bosch products.
As a leading source of high performance BMW parts and accessories since 1993, we at Turner Motorsport are honored to be the go-to supplier for tens of thousands of enthusiasts the world over. With over two decades of parts, service, and racing experience under our belt, we provide only quality performance and replacement parts. All of our performance parts are those we would (and do!) install and run on our own cars, as well as replacement parts that are Genuine BMW or from OEM manufacturers. We only offer parts we know you can trust to perform!

Part #: 11427566327

Free Shipping
on orders $199 and up