BMW F30 Oil Coolers & Oil Cooler Parts

The condition and state of your oil can make or break your day at the track. Oil is working best during a certain temperature range and when exceeded the protective properties of oil will break down. This is especially critical with older, dirty oil. Newer cars with high underhood temperatures are even more at risk. Aside from frequent oil changes and more capacity the best way to keep healthy oil flowing through your engine vitals is with an oil cooler. We offer track-developed oil cooler kits and other accessories aimed at reducing oil temps or making your current setup work safely and more efficiently. An oil cooler will not make your car faster or handle better. It's simply excellent preventative action to avoid costly troubles in the future.

For accurate results, specify your model below.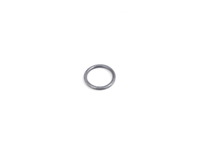 This is the sealing o-ring used for many oil cooler kits on various BMW models. They're also a prime source for oil leaks because the o-ring gets 'flat' or shrinks or becomes damaged. These are usually easy to change though which puts an end to annoying small oil leaks.
In German, Rein means Pure. In the automotive industry the Rein name has quickly come to represent quality. With fitments for some of the world's finest automobiles including BMW and Mini and guaranteed OE quality, Rein is a name you can trust.
Priced per o-ring but most cars have 4 to replace.
This item fits the following BMWs:
2008-2012
E82 BMW
135i 1M Coupe
1987-1991
E30 BMW
325is M3
1994-1999
E36 BMW
Euro
M3
1992-1999
E36 BMW
323is 323ic 325i 325is 325ic 328i 328is 328ic M3
with Euro oil cooler
2001-2006
E46 BMW
M3
2006-2011
E90 BMW
335i 335xi 335i xDrive M3 - Sedan
2007-2013
E92 BMW
335i 335is 335xi 335i xDrive M3 - Coupe
2007-2013
E93 BMW
335i M3 - Convertible
2012+
F30 BMW
335i - Sedan
1989-1995
E34 BMW
535i M5
2006-2010
E60 BMW
550i M5
1987-1989
E24 BMW
M6
2004-2011
E63 BMW
650i M6
1988-1992
E32 BMW
735i 735il
2002-2008
E65 BMW
750i 750li Alpina B7
2009+
F01 F02 BMW
750i 750li 750i xDrive 750li xDrive Alpina B7
2006-2010
E83 BMW
X3 3.0i X3 3.0si
2000-2006
E53 BMW
X5 4.4i X5 4.8is
2007-2013
E70 BMW
X5 xDrive35d
2001-2002
Z3 BMW
Z3 M Roadster M Coupe
2006-2008
E85 BMW
Z4 M Roadster M Coupe
2009+
Z4 BMW
Z4 sDrive35i Z4 sDrive35is

Part #: 17222245358
In Stock

Free Shipping
on orders $199 and up