Turner Motorsport insists on Genuine BMW or Bosch OEM or NGK OEM spark plugs in all of our work and maintenance packages. Bosch and NGK are original suppliers to BMW for spark plugs and the ignition system is set up to use these plugs. To keep the engine running at its best, and get the most from your performance upgrades, we only recommend direct replacement spark plugs. We also sell helpful tools and accessories for changing out spark plugs. Some engines require special tools for replacing spark plugs.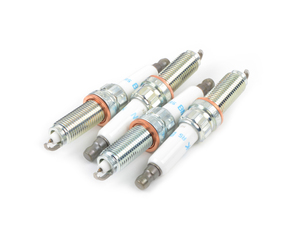 Standard replacement Genuine BMW NGK Spark plug for all N20 & N26 4 cylinder turbo engines. Sold as a set of four.

This item fits the following BMWs:
2012+ F10 BMW 528i 528i xDrive
2014+ F22 BMW 228i 228i xDrive
2014+ F23 BMW 228i 228i xDrive
2013+ F25 BMW X3 xDrive28i
2015+ F26 BMW X4 xDrive28i
2012+ F30 BMW 320i 320i xDrive 328i 328i xDrive - Sedan
2013+ F31 BMW 328i xDrive - Wagon
2013+ F32 BMW 428i 428i xDrive - Coupe
2013+ F33 BMW 428i Convertible 428i xDrive Convertible - Convertible
2014+ F34 BMW 328i xDrive GT - Gran Tourismo
2014+ F36 BMW 428i Gran Coupe 428i xDrive Gran Coupe
2013+ E84 BMW X1 sDrive28i X1 xDrive28i
2009+ E89 BMW Z4 sDrive28i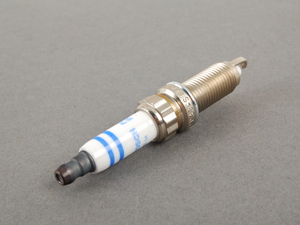 Bosch ZR5TPP33S spark plug for engines. Listed as BMW part #'s 12120037582 and 12120037575. Over time spark plugs become contaminated, worn, and "fouled out". This can cause a weak or missing spark leading to issues with fuel efficiency, misfires, check engine codes, and poor idle or even direct damage to your catalytic converter. This OEM spark plug made by Bosch will restore OE spark plug operation and function, returning lost power and fuel efficiency.
Bosch is one of the largest OEM producers of Genuine BMW and aftermarket parts in the world, providing parts for almost every major automotive manufacturer. Bosch has likely supplied many of the original electrical (and mechanical) parts for your BMW. Thanks to their quality, high durability, and reliability, you should expect a long service life from Bosch products.
As a leading source of high performance BMW parts and accessories since 1993, we at Turner Motorsport are honored to be the go-to supplier for tens of thousands of enthusiasts the world over. With over two decades of parts, service, and racing experience under our belt, we provide only quality performance and replacement parts. All of our performance parts are those we would (and do!) install and run on our own cars, as well as replacement parts that are Genuine BMW or from OEM manufacturers. We only offer parts we know you can trust to perform!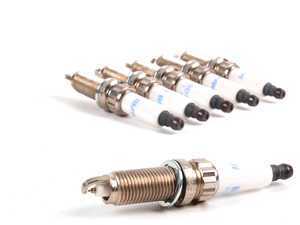 Poor idle, low fuel efficiency, and engine misfire codes are all symptoms of worn spark plugs. Replace yours with quality factory direct parts to get your engine running as well as possible.
These plugs from BMW are the solution for all of these problems. Over the years, the electrode wears away on spark plugs, causing too large of a gap and weak spark. Additionally, excess carbon can build up and bridge the gap to negatively effect performance. Replace yours with these factory correct units to regain your power, fuel efficiency, and smooth a poor idle.
If you are replacing any aspect of your ignition system, it's best to replace all serviceable components. By doing so, your ignition system will work in better harmony, freeing up hidden horsepower and raising fuel economy. Skim the ECS Tuning ignition area under your model for spark plugs, wires, coil packs and more to get your vehicle into top shape.
---