BMW F30 Brake Pad Sensors

BMWs are built with a wear indicator for the front and rear brake pads. When the pad wears to a certain point, the metal of the brake rotor will contact the sensor and trip the [BRAKE] light on your dash. This is an indication that your pads are low and need to be replacement soon. It's impossible to know exactly how many miles are left so have a shop inspect the pads and make recommendations for additional brake work to have done. Remember that if the dash light comes on then the sensor needs to be replaced in addition to the pads. Most BMWs have one sensor in the front (left-front) and one in the rear (right rear) since pads are replaced in axle sets only.

For accurate results, specify your model below.
We recommend replacing the brake sensor wire each time the brake pads are replaced. These often become brittle and will disintegrate while removing them from the old pads. This sensor fits both the REAR BMW F22 F30 F31 F32 F33 F34 F36 F80 F82.
This item fits the following BMWs:
2014+
F22 BMW
228i 228i xDrive M235i M235i xDrive
2012+
F30 BMW
320i 320i xDrive 328d 328d xDrive 328i 328i xDrive 335i 335i xDrive - Sedan
2013+
F31 BMW
328i xDrive 328d xDrive - Wagon
2014+
F34 BMW
328i xDrive GT, 335i xDrive GT - Gran Tourismo
2013+
F32 BMW
428i 428i xDrive 435i 435i xDrive - Coupe
2013+
F33 BMW
428i Convertible 428i xDrive Convertible 435i Convertible - Convertible
2014+
F36 BMW
428i Gran Coupe 428i xDrive Gran Coupe 435i Gran Coupe 435i xDrive Gran Coupe
2015+
F80 BMW
M3
2015+
F82 BMW
M4

Part #: 34356792292
In Stock

Free Shipping
on orders $199 and up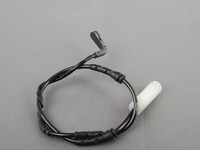 Replacement pad wear sensor, typically replaced when changing brake pads. If your brake lining warning is activated, the sensor will need to be replaced. Only one sensor required for front.
Position:
front
This item fits the following BMWs:
2008+
E82 BMW
135i
2006+
E90 BMW
325i 328i 335d 335i - Sedan
2006+
E91 BMW
328i- Wagon
2007+
E92 BMW
328i 335i 335is - Coupe
2007+
E93 BMW
328i 335i - Convertible
Also used for E82 and E9x models with BMW Performance Big Brake Kits.

Part #: 34356789440
In Stock

Free Shipping
on orders $199 and up