BMW F30 Performance Intake Kits

The BMW Performance line of intake kits deliver power gains with exceptional engineering and good looks. BMW Performance Intakes are designed to take advantage of a larger air filter to gain more cool air for the engine. The cooler and denser air will develop more power and torque. BMW engineers this kit for a perfect fit with materials and design consistent with the rest of the engine bay. With a factory-designed performance intake you get the power gains of an aftermarket kit blended with style and engineering direct from BMW.

For accurate results, specify your model below.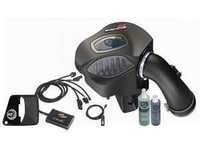 There's no secret to getting additional power from a turbo engine - turn up the boost! But it's easy to take things too far and become "boost drunk". If what you're after is a generous bump in power without worrying about reliability, compromises, or additional modifications the aFe Power Scorcher is perfect for you. We've tried the Scorcher in a number of different BMWs and can report back that it works flawlessly! This module is paired with the Momentum GT air intake system and restore kit to allow for as much airflow as possible.

The Scorcher is a plug-and-play tuning module that installs on the engine wiring harness and modifies the signals from the manifold pressure sensors. The new signals are then sent to the engine computer which increases boost based on the modified signal. The power gains are instantly noticeable and the module has been fully engineered to deliver a smooth and reliable power boost over all RPM. aFe developed this module upgrade on their in-house Mustang and Dynojet dynos. There are other products that give more power (for additional cost and complexity) but more boost also brings more complications. This is all of the power you need without additional drama and trickery. The Scorcher can be used on its own or combined with other aFe Power products for the total package.

The install is very easy with no cutting or modification to existing components. Unplug the harness from your MAP sensors and plug it into the Scorcher module. Then plug the Scorcher harness into the MAP sensors. Mount the module wherever you wish (Velcro and zip ties included). A blue LED lets you know the module is plugged in correctly and functioning. You can also revert back to stock just as easily! The Scorcher is built with a 0.1% tolerance on critical components. Each connector is an OE type for the best and most secure fitment and they use high quality wiring with excellent heat and chemical resistance. The module box is aluminum with a hardcoat anodize finish. This is way beyond the other 'resistor in a box' products on the market. aFe warranties the complete unit for two years.
This module features on-the-fly power adjustment using a single button controller that effortlessly adjusts from multiple modes of power control, including stock, sport, sport +, and race!
The included Momentum GT Intake features a one-piece housing with a clear window for hassle free filter inspection, a dyno-tuned intake tube designed to achieve maximum power gains, and 2 large performance air filters, Pro 5R and Pro Dry S, that are 7.5" tall with an inverted top conical air filters and give you the choice to run an oiled or dry filter with your intake.

Features:
Performance Package Includes Momentum GT air intake system + SCORCHER GT module (P/N: 77-46318) + Restore kit (P/N: 90-50501)
+58 HP and +83 lbs. x ft. Torque max gains
High Quality One-Piece Sealed Housing with Auxiliary Air Inlet
CAD-Designed Roto-Molded Intake Tube
Lightweight high gloss, clear-coated 2 x 2 twill-weave carbon fiber trim on housing for styling
Includes both Pro Dry S oil-free & Pro 5R oiled, washable/reusable performance air filters
Unique Filter-to-Housing Interface for Easy Installation (US PAT 9440175)
SCORCHER GT module increase turbo boost to improve vehicle performance, efficiency and throttle response
In-Cabin On-the-Fly Power Adjustments via LED light switch
4-power position settings: Stock (Green), Sport (Yellow), Sport+ (Orange) and Race (Red)
Leaves no trace on ECU (No Footprint)
Fitment:
2016+ F30/1/4 BMW 340i/ix w/ B58 engine
2016+ F32/3/6 BMW 440i/ix w/ B58 engine