BMW F30 Exhaust System Upgrades

A performance exhaust is a modification that you get constant benefit from - at every change of the throttle you are rewarded with that tuned sound. It's not like other modifications where you may not realize all of its benefits all the time. It's an upgrade that you enjoy at all times when you're behind the wheel. We offer exhaust upgrades from multiple performance manufacturers like Borla, Corsa, Supersprint, and Akrapovic but we have also developed or sourced other exhaust systems to meet specific needs.

For accurate results, specify your model below.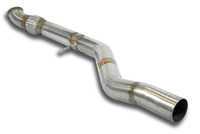 Free ground shipping!
This oversized front (section 1) pipe is a direct replacement for the stock exhaust section. It's been optimized for flow with 80mm tubing and mandrel bends. It does have compressed sections like on the stock piece. Although this is very similar to the factory exhaust pipe the larger size from the Supersprint provides better flow and less restriction (key for making power in turbocharged engines).

Supersprint exhaust is widely recognized as the leader in complete exhaust system upgrades - extremely high quality, well designed for optimal flow, and amazing sound. Even at a premium price Supersprint is an unbeatable exhaust system because every aspect is done to such a high level. A Supersprint exhaust rewards you with a terrific sound, long lasting construction and excellent fitment. The Supersprint sound is very 'European' which fits the sporting sophistication of BMWs perfectly. Most systems are also modular - sections can be added or removed to custom tailor the exhaust sound to your preferance. Aside from 'Race' systems, their mufflers meet European noise laws so you get a refined and tuned sound without being excessively loud. Most Supersprint systems are built with larger diameter piping to improve exhaust flow which helps the engine do less work and make more horsepower! Supersprint exhausts generally run at a premium over other systems but no other system on the market can match their quality, performance, or reputation!
section:section 1
connects to:stock or Supersprint downpipe; stock or Supersprint section 2
material:T304 stainless steel

This item fits the following BMWs:
2012+ F30 BMW 335i xDrive 335xi - Sedan
2014+ F32 BMW 435i xDrive 435xi - Sedan
Part #: 988512
Free Shipping

The AC Schnitzer muffler is designed to compliment your car and not overpower the driver and passengers with harsh tones. Schnitzer engineers their exhaust to sound great and be a natural fit to the character of the car while also producing more power and torque. Including new exhaust tips to fill out the rear valence. There's also now drone, which means smooth sound throughout the RPM range. AC Schnitzer is sure only to use the highest quality components in their systems for maximum corrosion protection and durability. This system replaces the factory rear mufflers at a pre-determined cut point on the stock exhaust, which makes for an easy installation and you can reinstall your original mufflers using factory hardware. Detailed installation instructions are included.
This item fits the following BMWs:
2014+ F30 BMW 328i 328i xDrive
2014+ F31 BMW 328i xDrive
2014+ F33 BMW 428i 428i xDrive
2014+ F34 BMW 328i xDrive
2014+ F32 F36 BMW 428i 428i xDrive - Coupe and Gran Coupe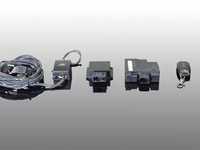 To truly get the most performance out of any car, it's crucial to find the perfect balance of smooth and unrestricted exhaust flow. These are also the key components to getting the best sound from your car. AC Schnitzer has made it easy for you to accomplish just that. This AC Schnitzer performance sound module will enhance the sound to be aggressive without being overbearing. Constructed of the highest-quality materials, fit and form are flawless.