BMW F34 340ixDrive External Engine Parts
Looking for parts under the hood of your BMW? This section is for parts and accessories mounted to, and around, the engine. 'External' engine components covers parts and systems up to and after the cylinder head. Examples include crankcase vent valves, secondary air systems, idle control valves, oil filler caps, valve cover trim, and more. For parts within the engine and cylinder head see our 'Internal Engine Components' section.
You're currently viewing parts for your
(F34) 3-Series Gran Turismo 2014+
.
Reset your chassis

For accurate results, specify your model below.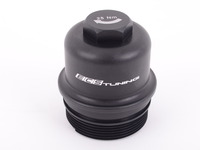 BMW uses a lot of plastic in their engine components to save weight and money. Unfortunately, plastic is damaged easily and the factory oil filter cap needs a special tool to remove. This cap is designed to use the original o-ring seal so no special parts are required. You only have to remove the original 'filter cage' from the original cap and transfer it to the new aluminum cap. The satin black anodize blends in with the rest of your engine bay making this a smart and subtle upgrade.

Part #: 017306ECS01
In Stock

Free Shipping
on orders $199 and up