BMW F34 340ixDrive Stock OEM Replacement Brake Pads
Turner Motorsport does not usually sell the OE or OEM type brake pads. The typical TMS customer is looking for better-than-stock braking performance. But there are some cases where the stock pads actually perform pretty well. Or in some cases, our pad suppliers have not come out with an option for a newer model yet and the OEM pad is the only current option. For these customers, we offer Genuine BMW pads or pads from Original Equipment Manufacturers like Ate, Textar, Pagid, and others.
You're currently viewing parts for your
(F34) 3-Series Gran Turismo 2014+
.
Reset your chassis

For accurate results, specify your model below.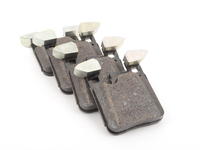 These are the standard pads that came on the 2014+ M Sport brake upgrade (with blue calipers) and the M Performance brake package on the F22 2-series, F30 3-series, and F32 4-series. The M Sport brake upgrade was offered as a stand-alone option and consisted of larger rotors and a 2-piston Brembo rear caliper. The front and rear calipers were blue with the ///M logo. The M Performance brakes were a dealer-installed accessory option and came in red, orange, or yellow/gold caliper colors. The bright calipers combined with a larger dimpled and slotted rotor to give the looks of a racing big brake kit without the dust and noise of a true racing brake pad.
This brake pad set was original equipment on the following BMWs:
2014+
F22 BMW
M235i (with M Sport or M Performance brakes)
2012-2013
F30 BMW
335i 335xi (with M Sport or M Performance brakes)
2014+
F32 F33 BMW
435i 435xi (with M Sport or M Performance brakes