BMW F34 340ixDrive Engine Oils - Genuine BMW and OEM
You're currently viewing parts for your
(F34) 3-Series Gran Turismo 2014+
.
Reset your chassis

For accurate results, specify your model below.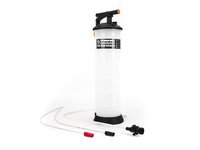 6.5 Liter Extractor system is hand -operated for fast extraction of any type of fluid. Two different diameter extracting tubes are included to suit your particular application. Unit has a vacuum release button for quick and easy release.
Features:
Flip out foot for stability whils using the extractor
Built in hose storage
41" Main tube 3/8" OD
Two 35" extension tubes 1/4" and 3/16" OD ( couples to main tube).

Part #: 011885SCH01A
In Stock

Free Shipping
on orders $199 and up
For use with the Schwaben Extractor/Filler System to extract used ATF fluid or used engine oil out thru the dipstick tube. No need to crawl under the car with this handy set of tubes.
Features:
Includes 3 tubes
Main 41" tube couples directly into the main 6-Liter tank coupling
Two 35" tubes to be inserted into the dipstick tube and have a slide coupler to connect to main tube
One dipstick tube is 1/4" OD and the other is 3/16"
*From top of dipstick tube to bottom of pan must be no more than 33" long.

Part #: 013810SCH01A
In Stock

Free Shipping
on orders $199 and up
6-Liter Extractor/Filler System makes oil, ATF or any type of fluid change a snap. Easily change to pump-in/out with the flip of a lever.
Features: ​
Extendable foot step for stable use when pumping
All adapters mount on the tank for convenient storage of the 9 included adapters
5-foot main tube features a quick disconnect and shut off valve
Included is a 24" long and 3/8" OD tube with quick connect nipple
Manual pump and requires no electricity or air pressure to operate
Extract up to 6-Liters of new fluid from barrel, bucket or bottle into the tank, turn handle to out position to fill into your vehicle
Now Available: Optional Dipstick extracting tube set

Part #: 007221SCH01A
In Stock

Free Shipping
on orders $199 and up