BMW F34 H&R Wheel Spacers
When it comes to all-out cornering performance, one rule applies: wider is really, truly better. H&R TRAK+ wheel spacers let you balance the handling and performance of your car to suit your aggressive driving style. Most manufacturers, even Porsche and BMW, leave 20 to 30mm of extra space between the tire and the fender to suit arcane regulations or to leave space for flapping tire chains. These light-alloy spacers push your existing wheels or even your hot, aftermarket alloys out to fill the wheelwells properly, giving you better cornering, better aerodynamics and even better looks.
Spacers are purchased based on the size required - click here for tips on how to measure.
You're currently viewing parts for your
(F34) 3-Series Gran Turismo 2014+
.
Reset your chassis

For accurate results, specify your model below.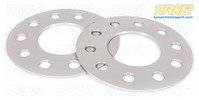 3mm = .12"
5/120 bolt pattern; 72.5 center bore
DR type = spacer fits in between the wheel and the hub. Longer wheel bolts are recommended.
Hubcentric = Yes*, the original hub lip still protrudes through the spacer

H&R's 3mm wheel spacers are Made in Germany and are TUV approved. H&R manufacturers their spacers from a super lightweight aluminum/magnesium alloy for excellent strength and also to save unsprung weight. The spacers are drilled for additional lightness and easy fitment. They are then hard anodized for durability. These are not low quality universal spacers - the bolt pattern, hub sizing, and other dimensions are designed to be used on BMW models only. This spacer has a larger mounting surface specifically designed for the larger mounting pad of F30 wheels.

This spacer slips on the existing hub lip and leaves some lip left over for the wheel to rest on. This keeps the wheel hubcentric*.
* - To avoid vibration, 3mm spacers work best with wheels that have a flush mounting surface. Wheels that have a bevel around the mounting surface will not be fully seated on the hub and a vibration may result.

Longer wheel bolts are strongly recommended. Choose from black or silver bolts from the options below. Wheel locks to work with this spacer size are also available.

Wheel Spacer FAQ
Wheel Spacer Encyclopedia - everything you wanted to know

This item fits the following BMWs:
2012+ F30 BMW 320i 320i xDrive 328d 328d xDrive 328i 328i xDrive 335i 335i xDrive - Sedan
2013+ F31 BMW 328i xDrive 328d xDrive - Wagon
2013+ F32 BMW 428i 428i xDrive 435i 435i xDrive - Coupe
2013+ F33 BMW 428i Convertible 428i xDrive Convertible 435i Convertible - Convertible
2014+ F36 BMW 428i Gran Coupe 428i xDrive Gran Coupe 435i Gran Coupe 435i xDrive Gran Coupe
2011+ F10 BMW M5
2012+ F12 BMW M6
2013+ F06 BMW M6 Gran Coupe

Part #: 675726
Direct Ship

Unsure of what size spacer will work best for you? This professional kit includes 1mm, 2.5mm, 5mm, 10mm, and 15mm spacers with wheel studs and nuts for you play with. These are not the same spacers that we sell and they cannot be used to drive on. But with the studs installed the car can be lowered to the ground and rolled to check for clearances. These test fit spacers are drilled to fit the standard BMW 5x120 bolt pattern as well as 4-lug 4x100 (and VW/Audi bolt patterns too). You can stack spacers to achieve the perfect clearance. When you're ready call us to order the spacers you need (Turner spacers come in 3mm, 5mm, 7.5mm, 10mm, 12.5mm, 15mm, 17.5mm, 20mm, 25mm, and 30mm spacer thicknesses).
These spacers are not for driving on. They lack the hubcentric lip that BMW wheels are designed to work with. Driving on studs alone will lead to a failure.
Two ways to buy -
Own. Just as it says, you buy this kit to own. Perfect for shops or race teams that change wheels or brake components often. For shops you can measure wheel clearance and order the correct spacers the first time around (no wasting inventory or paying return shipping). Note: Kits purchased to Own are not returnable for refunds.
Rent. Pay the full price but get $110 as a store credit when you return the kit. We keep a modest $19.95 fee for the service. Perfect for DIY and enthusiasts who only need the Test Kit once. Use your store credit to purchase your spacers (or anything else from our catalog).
Wheel Spacer FAQ:
How to measure for wheel spacers
Wheel spacer encyclopedia

Part #: 001202ECS03
In Stock

Free Shipping
on orders $199 and up