BMW F80 Akrapovic Performance Exhaust Systems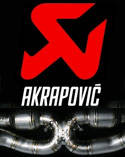 The Akrapovic (pronounced "Ack-rap'-o-vich") company was founded in 1990, based on the experience gained in the field of motorcycle tuning by Igor Akrapovic. Akrapovic is now the leading supplier of Titanium exhaust systems for cars and motorcycles, and are known internationally for their quality and performance. Akrapovic supplies exhausts to BMW Motorsport for racing applications such as the M3 GT4, BMW Motorrad, and many professional race organizations campaigning BMWs and Porsches. The titanium Akrapovic uses for their exhaust systems is produced exclusively for them. Their Titanium is three times stronger and more heat resistant than any other titanium product on the market, in addition to being 40% lighter than stainless steel. This high strength allows the use of thinner insulation while still achieving the highest quality standards, bringing decisive advantages both on and off the race track. The Akrapovic exhaust systems are the lightest and highest quality exhausts you can buy for a BMW. And as you'll find from their sound clips, they also have an amazing sound quality.

For accurate results, specify your model below.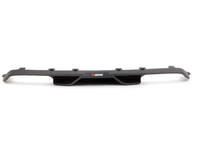 The Akrapovi? Evolution and Slip-On line exhaust systems can be further enhanced with an optional hand-crafted carbon-fiber rear diffuser. Developed by Akrapovi?'s Design Department, this stunning diffuser, crafted from materials developed through Akrapovi?'s racing involvement, is designed to perfectly fit the lines of the unique tailpipes of the Slip-On or Evolution systems, as well as complement the sleek and sporty shape of the BMW.
This item fits the following BMWs:
2015+
F80 BMW
M3
2015+
F82 BMW
M4
Part #: TMS201407
Ships in 8 days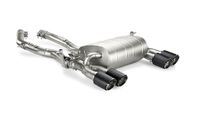 7.3 hp gain at 4400 rpm
12.8 lb-ft torque gain at 2350 rpm
The latest addition to the BMW M series is the awe-inspiring M3/M4, an exquisite high-performance car that can be made even better by adding an Akrapovic Slip-On exhaust system. Made from titanium with some parts cast in Akrapovic's own foundry it has bigger pipes than the stock exhaust, yielding lower back pressure and more power, especially at lower RPMs. This system is a completely new design, and it will reduce overall vehicle weight and deliver extra power and a sporty sound, which has been tailored to highlight lower frequencies and increase the listening enjoyment. Increases in both power and torque add to the sensory experience, combined with improved agility. The look of the Slip-On system can also be further enhanced by adding titanium or carbon- tailpipes and the stunning carbon- rear diffuser.
Not for sale outside the US or Canada.
This Akrapovic Exhaust fits the following BMWs:
2014+
F80 BMW
M3
2014+
F82 BMW
M4
Part #: M-BM/T/8H
Ships in 8 days